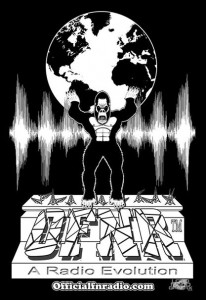 Anyone who follows Connecticut's local metal scene is familiar with Official FN Radio, a Waterbury-based independent internet radio station run by Bob Marino.  But over the course of eight years, OFNR has become much more than just a website with some tunes.  Marino, better known as "Knob," has turned the station into a hub of information for The Scene by interviewing musicians on the air, writing reviews of local bands, and spreading the word on social media about everything that's going on.
And every now and then, he hosts a big FN show.  Coming up on October 4th at Wallingford's Cherry Street Station, FN Fest 2014 will feature Into the Coven, Revel 9, Archimage, Scars of Envy, Fear the Masses, Risk All In Life, No Honor Among Thieves, and Stagger.  A lineup like that is sure to bring in a big crowd, and all proceeds will be donated to Neighborhood Music School in New Haven to provide need-based scholarships for children taking lessons there.
Alternative Control emailed Knob some questions about the OFNR's past, present, and future.  Here's what he had to say:
Where did you get the notion to start an independent online radio station out of your house?
It started in 2005 when I went to CT School of Broadcasting. I met a dude by the Name of Aaron Howard the very first day of school. We really hit it off. We booked studio time at the school to get better at our craft.
So we would book studio A & B which were divided by a window and do "shows" (never aired) under the name "Shaderock Radio."  That is until one fateful day when Aaron did a TV commercial (as a project for school) for Effen Vodka.
Soon thereafter we decided to start doing our shows as "Effen Radio"
We graduated in October 2005, and became really close friends and had parties and stuff you do when you are in your 20s. We also began working on a project called Neil N Bob's Untold Stories, which started out as a 30 second stop and ended up a 30 minute CD.
We thought we had an awesome product and we shopped the idea to a few fledgling internet stations. No one was biting so I was pretty bummed.  I knew I could do it myself but I didn't have the capitol for royalties and startup fees.
One day, I got back to work from a lunch with Aaron, and I told boss at the time Mik Mitnik what I was thinking of doing, explained that I knew how to start my own radio station online, but didn't have the funds. He stopped me asked me how much, and handed me the first month's fees in cash.
I called Aaron, joined Live365.com, and on 9/30/2006 at 8PM FN Radio was born.
How has the station's mission and format changed over the past eight years?  (Or not changed?)
The mission of the station has not changed in 8 years. Our mission is to support global independent music.
That word support comes in a lot of flavors. We play the music, we talk about the bands, we do CD Reviews, performance videos, music videos. We do a lot to try and spread independent rock and metal to as many people as will listen.
Is FN Fest a yearly thing?
Since 2006 we've celebrated the anniversary of the station every year, but the first OFFICIAL FN Fest event was in 2008. We had 5 bands on at Bobby Allen's in Waterbury: Worst Case Scenario, Ethan James, the CT hardcore band When Freedom Dies, Right your Wrongs, and NY natives ODD Zero.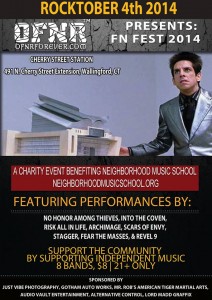 What's special about this year's Fest?
I feel that OFNR is around because of so much amazing support from the local scene. We are 8 now and I feel that we've made somewhat of a name for ourselves. So, this year I wanted to do something, to celebrate OFNR, but more importantly to give back to the community.
So I began looking for music charities. I wanted to do that because I feel music is VITAL. And, if we truly support Global Independent music we have to start with the children! Won't someone please think of the children!?
I asked my friends, via Facebook if anyone knew of some good ones, and Alternative Control's own Jessie May, that's YOU, introduced me to Neighborhood Music School.
What are the pros and cons of planning a local show as far in advance as you planned this one?
The Pros for me is that I like to book early. I get an idea, I get the bands. I book the show and it's booked. I like to be organized and I like to book way in advance so I can try and create a SPECTACLE — something people would get excited for. I also like to reach out to potential sponsors. Booking early leaves a lot of room to breathe and promote a show properly without being a douchnozzle about it.
The cons, and I'd say the cons for doing ANY show is the bands that drop off and trying to find replacements or restructuring the show.  Of course once you have a bunch of bands you have to stress about the lineup because you want to be fair, and give everyone a chance to be heard by the most people.
Booking and promoting shows isn't easy work. Thank your local promoters if you feel they gave you a show worth your hard earned money!
Of courrrrrrrse you're excited about all the bands on the bill, but is there one you're particularly looking forward to seeing?
Without a doubt, Stagger. It's not officially a party without the guys from Stagger. I actually met them at a concert for Darkness Descends in 2011 and they are like family to me. (Especially Joe. I mean you see what happens on Photoshop Wars every week!)
I'm also really hyped up to see Revel 9 from NY if for no other reason than because I've been messing with their singer DJ Pearlman on his Hard Rock Lunchbox show. We also had him on the air a while back and the band is great. Looking forward to seeing them live for the first time.
How did Neighborhood Music School react when you told them that a bunch of metalheads were throwing a concert to raise money for their scholarship funds?
They were really happy to hear that we thought of them and were very receptive to the idea. I think there is some skepticism though. Metalheads are not necessarily known for their philanthropic tendencies. I'm truly hoping events like this will change that.
Speaking of concerts to raise money, you threw an "Official FN Fundraiser" earlier this year and raised $700 (??) – not bad!  How has that money helped OFNR?
Well, those who have been to OFNR before my youngest son was born remember we had a badass space for the station. Since the baby was coming, we gave my oldest that space, and now I run OFNR from my bedroom (not ideal).
The goal was to raise money to help convert my 2 car garage space into a full studio space. After getting the initial $700 from the fundraiser, I had some quotes done to see how much the entire project would cost — and received quotes from $10,000 to $40,000.  Right now I'm sitting on that money until I can raise the necessary funds. I'm still looking into ideas and a few people have volunteered their expertise as well.
You've talked about moving out of state.  Is that a near-future possibility, and how would that affect OFNR?
If it was possible, I'd leave CT today. It's really hard having a family and living here — everything is just so expensive. But, at the end of the day, right now, it's probably not going to happen any time soon.
However, if it did happen, OFNR continues. I mean we are an internet station so we can go where ever there is internet. Sure I'd totally miss the CT scene and some of the amazing friends I've made, but isn't that the case anytime you move from place to place?
What new things are going on with OFNR (other than FN Fest) that you'd like readers to know about?

Well the first is our new show on Tuesday Night. Knob and The Mutch. Bagman is on hiatus so Steve Mutch of Into The Coven stepped in and we do a 3-hour show every week from 8-11.
We have some great guests coming up:
Secondly, Chaos is returning to a bi-weekly basis with the first Episode being 9/14. If you've never heard Chaos before, it's a very deliberate and offensive show. It's not for everyone, but it does have its rabid fans.
And veering off  OFNR… Are you a lawyer or something, aside from the IT stuff??
I'm not a lawyer, no. I do have a doctorate in law, but the one thing I learned in law school was I didn't want to be a lawyer. The law is like politics, no matter how good your intentions when you start, the ability to do any real good is mired in money and semantics.
How did you end up in Connecticut from North Dakota?  (Right??)
My parents were both in the Air Force so we moved around a lot. I've lived in North Dakota, Germany, Idaho, NY, MA, and of course CT.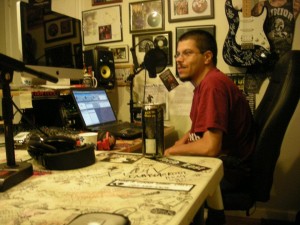 From Steve – how did you get the nickname Knob?
I stole the name from a disc jockey at WXCI 91.7fm in Danbury. Back in my college days I was a DJ there and one of the guys called himself Bob on the Knob.  When I went to CSB I used that as my "handle."  The First show that ever aired on OFNR was The Neil N Bob (on the Knob) show.   Somedude was the one who started referring me as KNOB, and it's stuck ever since.
Also, I'm the designated "board bitch" at OFNR, mostly because I'm the only one who knows how, and I twist the knobs and push the buttons.
Thanks for the interview. I sincerely hope everyone will come out to FN Fest 10/4 at Cherry Street Station. Come Early, Stay Late!
FN Fest is sponsored by Just Vibe Photo, Gotham Auto Works, Mr. Robb's American Martial Arts Academy, Audiovault Entertainment, Alternative Control, Lord Mad Graffix, and Salute Restaurant Downtown Hartford.  See you 10/4 at Cherry Street — doors at 6 and first band at 6:30!
Listen to OFNR here, and connect on Facebook, Twitter, Youtube, and Soundcloud.