Chip McCabe met with Alternative Control this Tuesday to talk about Death to False Metal Festival, a two-day show he's holding at The Outer Space & Ballroom in Hamden August 14 and 15.   Featuring well-respected locals and nationals from many metal genres, DTFM is sure to become a highly-anticipated annual event — and you'll want to say you were at the first one.  Listen to what Chip has to say about putting the festival together, his past work with the Advocates and Connecticut Music Awards, and some unequivocal thoughts on "pay to play."
If you can't sit and listen at the moment, here are some highlights:
On the inspiration behind DTFM:
The Death to False Metal Festival been something that's been brewing in my head for a really long time.  […]  I wanted to bring something to Connecticut that had that aesthetic of really good underground metal.  Take your Maryland Deathfest or your Southwest Terrorfest or any one of those really good festivals and bring it up here — we have big plans for the future.
On putting together the lineup:
For the local acts, […] I just went out and picked six bands that I loved.  A couple of them I had never worked with before, so it was a cool chance to work with them and book a show with them.  [Editor's note: locals include Nightbitch, Vengeance, Bedroom Rehab Corporation, Grizzlor, Archaic Decapitator, and Tomb & Thirst.]  For the touring acts, I knew I had between eight and twelve spots… So I literally just sat down and said, "In the past two years, which bands have put out records that I love?"  Or, like in the case of Whiplash, what bands have I never worked with and have been dying to work with my entire life?
Whiplash was the first metal show I ever went to, when I was 15 years old in 1990.  […]  So I was like, "I need Whiplash on this first festival because it completes the metal circle of my life."  If I die on August 16, it will be Whiplash and Whiplash front to back.
Why the Outer Space & Ballroom?
I chose the Ballroom and the Outer Space for a couple reasons.  One, it was the perfect size — I was looking for that room that I think we could potentially sell out with the right bands.   Two, I had put metal bands, or I should say louder bands, in the Ballroom for a Grand Band Slam and it sounded fantastic.  […]  And then seeing DRI there a couple months ago cemented the idea that I chose the right room.  But I also really wanted to work with Steve Rodgers, who owns those venues.  He's a good friend of mine, he's one of the best dudes in the scene, he's one of the most honest dudes in the scene…  And I thought it would be only right to kick off this festival doing it at his venues.
On pay-to-play shows:
Here's the thing, I'm gonna say it — can I curse?  Fuck pay to play.  I don't care if it's for the local venue or for a festival, any promoter who makes you, the band, pay to play can eat shit and die.  I've been booking shows for literally twenty years now (maybe longer than that if you go back to VFW days) and I've never once made a band pay to be on one of my shows.
On the Connecticut Music Awards:
I knew four years ago that there was not going to be total unity around (the CT Music Awards).  I knew there would be bands who were like, "This is dumb, you're dumb, it's all dumb…." And that's fine. I find it kind of amusing that the most resistance I've seen about the Music Awards comes from the scene I identify with the most, and that's the metal scene.  […]
I don't care who likes it and doesn't like it.  All I would say is if you as a band don't want to partake in this, that's totally cool, that's your choice.  But don't go trashing bands that want to, because some of the bands who partake in this really have seen more attention from press outside of Connecticut, because they've been able to put on their bio, "Best Folk Band of 2014," y'know what I mean?  […]  What's good for one band isn't always good for the other, and that's the way a scene should work.
AltCtrl: That's a good answer.
(laughs) Well I've had to defend this event for four years, so I've got the answer pretty much down.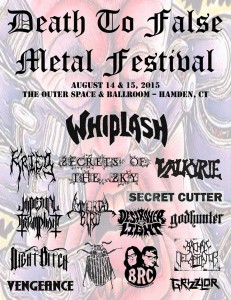 Death to False Metal tickets are available here — $15 for a single-day ticket or $25 for a two day pass.  Online sales end August 7th.
Friday nights lineup will include Whiplash, Valkyrie, Imperial Triumphant, Nightbitch, Vengeance, and Bedroom Rehab Corporation.
Saturday features Krieg, Secrets of the Sky, Immortal Bird, Destroyer of Light, Godhunter, Grizzlor, Secret Cutter, Tomb & Thirst, and Archaic Decapitator.  Another Saturday highlight will be the Telefunken Elektroakustik booth: the premiere microphone manufacturer will have a booth set up for musicians to come down and test their mics out first hand. Got a song that sounds good on an acoustic? Come play it and Telefunken will record/film it and be uploading to their YouTube channel!
Set times will be announced before the end of July.  (Thank fucking God someone announces set times around here!)  Find DTFM on Facebook and Twitter to stay on top of all the updates.  Also, join the Facebook event!
And for more from Alternative Control, find us on Facebook or follow on Twitter/Instagram at @AltCtrlCT!