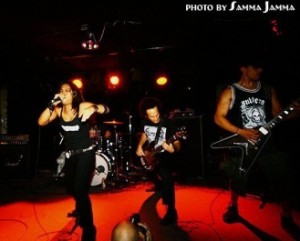 Bands can take awhile to pick up steam in the local music community. Months of practice are followed by one shitty show, followed the next month by another shitty show…. Followed by a year of hard work before the band is known by anyone who hasn't slept with the members. Or if we take Choice B in this Choose-Your-Own-Ending story, the band has a couple decent shows and then the guitar player quits for "personal reasons."
Not the case for Alekhine's Gun. This Brooklyn thrash outfit has established itself in the New York City music scene less than a year after its first concert and is now branching out to the tri-state area. With Jessica Pimentel on vocals, Jeff Martinez on guitar, Dan Martinez on bass, and Angel Cotte on drums, Alekhine's Gun has went from the basement to the Highline Ballroom in the time it takes most bands to compose a five-song set.
To be turning this many heads, AG is clearly bringing a high-energy musical assault wherever they go — but the meaning behind their lyrics gives them an unusual twist. Many songs are based on Tibetan Buddhist beliefs, but not in the peaceful way that probably comes to mind when we think of the Dalai Lama. For instance, the song "Vengeance" tells the story of Palden Lhamo, a guardian spirit who killed her own son to save her country from the evil king — who was also her husband. The chorus line "You'll wish you never crossed me" sounds bad-ass enough, but it takes on a new meaning when you know the story behind it. Another song, "Bardo," talks about the stage between death and rebirth — "Here your fate lies / Between two lives / And what have you done" — and the awful realization that it's "time to pay." Uh oh, you're fucked.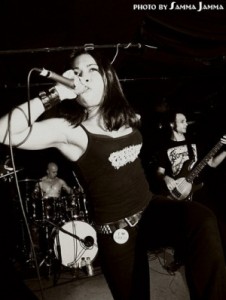 But another reason AG is turning heads is that the singer is a beautiful woman. (Albeit one that sounds like she can tear your balls off.) While many male metal fans view a hot chick singer as a gimmick, Alekhine's Gun is no "chick band" — and after seeing one of AG's aggressive performances, nobody would call Pimentel a gimmick to her face. A casual listener probably wouldn't even know the singer was female without seeing a picture. Since Pimentel has been playing music most of her life — from classical violin at Carnegie Hall to bass in the hardcore band Desolate — she didn't join the Alekhine's Gun to look pretty. She told Alternative Control that her ability to pull off thrash vocals, high screams, and growls comes from years of singing along to her favorite NY hardcore bands, plus the formal voice training she got in acting school. (By day, she's a film and stage actress — go figure.)
So, the riffs are cool, the lyrics are cool, the singer's a girl… You'll have ample opportunity to check out the Alekhine's Gun phenomenon in real life, and you might even see Kurt Balogh of No Remission playing guitar with them — he's filling in while the band looks for a permanent second guitarist. Their EP Meditations in Wrath will be out later this year; in the meantime, check out the tunes, check out a show, and let AltCtrl know what you think!
Upcoming Shows
9/24/11 @ Club Europa in Brooklyn, NY w/ No Remission, Lies Beneath, Desolate, Death Becomes Her, Brick by Brick, Fall of the Albatross, and Forever in Terror
9/30/11 @ Seaside Tavern in Stamford, CT w/ Arcane Malevolence, Warstrike 666, and 1 more TBA — Stamford readers, go to this show!
11/5/11 @ Irving Plaza in NYC w/ PUi, Killcode, AnAkA, PT Grimm, and Bound for Substance
Links
Editor's Note: This article's title and links were updated 6/28/2016.  Who knew that several years after this interview, Pimentel would become a star on the Netflix series Orange is the New Black!