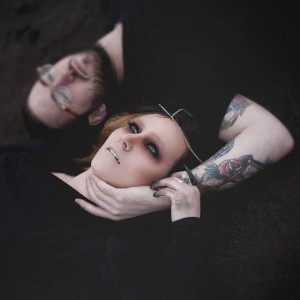 Muscle & Marrow, which features Kira Clark (guitar, vocals) and Keith McGraw (drums, samples) are a doom duo from Portland, Oregon whose music is haunting and very moving, and plays on the juxtaposition between quiet and loud. Ethereal passages give way to amplifier assaults, as Clark switches from a soothing croon to full on screams and howls.
They are currently on the road supporting Author & Punisher and will be heading into the studio in late October to work on a follow up to their well received 2014 album, The Human Cry.
Since we like to broaden your horizons here at Alt Control, we sent Clark a bunch of questions, concerning the band's life as a duo, it's creative process and her fascination with Courtney Love, among other subjects.
Enjoy.
What are the advantages of playing as a duo? What are the disadvantages, if any? And in your case, what's it like being in a duo with your significant other?
We cannot imagine inviting anyone else into this very private, strange world we have created for ourselves. We work within the limitations of having only two people.
Sometimes we think about what our sound would be like with a keyboard player or a lead guitarist, but ultimately the idea of another person witnessing our creative process (which often involves intense vulnerability, tears, sometimes arguments), coming on tour with us, etc., seems totally impossible. The fact that we are in a relationship together enables us to be extremely intimate and exposed during the creative process. Again, the idea of making music with anyone else seems bizarre and terrifying.
How important is the contrast between quiet and loud in your music?
I am drawn towards contradiction, complexity, and contrast in art. I experience sadness, rage, and a plethora of other human emotions and want to convey that in our music.
When a song or cluster of songs we play live feels too monotonic I know something needs to be changed because it no longer speaks to my human experience. I want people to pay attention. I don't want them to be able to easily digest what we have to say. I want people to be surprised.
Were you satisfied with the way The Human Cry turned out? Would you do anything differently?
We certainly feel like we have moved on from that record, though we are proud of it. We have grown so much as artists over the last year that we feel much more confident in the way we want our next record to sound and what we want the production process to be like. I am constantly trying to navigate ways to assert my needs and vision, particularly as a woman, and as I become more confident in myself, I hope I will become more confident and able to do that.
In addition, were you surprised by the all the attention The Human Cry received? Albeit, in a positive way.
I think we've been a bit surprised, and it's always surprising when someone says something genuine and moving to us. It's actually a little embarrassing. We are very ambitious, but ironically we sort of cower when people are too nice to us. It is something we are working on, how to be gracious and allow the compliments to embed themselves in us as deeply as the criticism.
What is your fascination with Courtney Love? Why are you drawn to her?
Growing up I was obsessed for a while with Kurt Cobain and I remember completely dismissing Courtney as an insane, toxic woman because that was the information that I had available. I actually had no conception that she was an artist herself. One day, pretty recently, Doll Parts came on the radio and I fell instantly in love. When I found out about Hole I was completely astonished and furious that I had never been exposed to the band. Courtney Love became very symbolic to me. She became every single woman idol I missed out on while I was busy worshiping only men growing up. The level of genius is not accessible to women in the same way it is to men. Women idols were not available to me. I had Virginia Woolf. I think that's it.
I love her ambition, her insanity, her talent, her charisma, her intelligence, her instability. Every single time I feel far too shy or self loathing or anxious to get up on stage before a show I think of her and her anger and her absolute courage and I then can scream. She did what she wanted and she has an unwavering belief in herself and as a woman looking at another woman, I feel suddenly that I could one day be like that too.
Also, to what extent does literature inform your music? What kind of literature or writers?
Literature and poetry are my first loves. I have built a community of people around me who have become my best friends who I will never meet. It is the place of quiet thought that will always be there. Literature and poetry inform my use of language and inspire my lyrics. I am interested in strange, abstract, surprising language. I read a lot of contemporary and experimental prose and poetry mostly by women like Alice Notley, Maggie Nelson, Eileen Myles, Anne Carson.
What was it like playing the most recent edition of Festicide in Portland, Oregon, this year? How did it go?
Festicide was fun and we love and support the idea of Festicide. The only frustration that we have been feeling lately regarding local shows is that it doesn't seem like we're ever playing to anyone new. We want to find a way to reach new people. I guess that's what everyone wants to do.
Once this tour with Author & Punisher is over, what are the plans for the band. Is there a new record on the horizon? Or more touring?
We are making a new record October 26th! It should be out sometime next year, hopefully in March. We are going to take weird photos and make weird t shirts and tour next year for the record.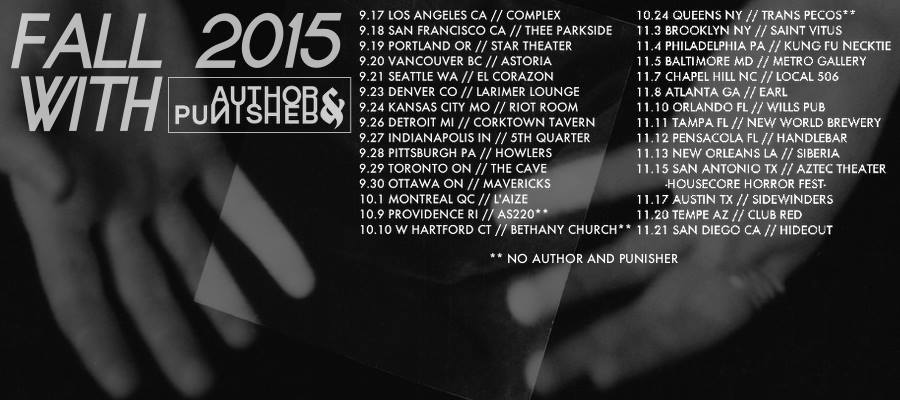 For more from Muscle and Marrow, find them on Facebook and bandcamp.   And for more from Alternative Control, like us on Facebook or follow on Twitter and Instagram at @AltCtrlCT!