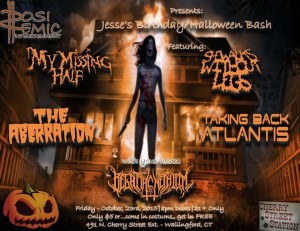 If there's one thing that gets people out to a show, it's someone's birthday — and if there's another thing, it's Halloween.  Local vocalist and Posidemic 'Ntertainment founder Jesse James will have the best of both worlds on 10/23 at Cherry Street Station in Wallingford.  Says Jesse, "I have no clue what's in store for me, other than a Halloween costume and lots of alcohol, but I'm sure that it's gonna be one of the best parties ever!"
Jesse might not remember much the next day, but with She Walks Without Legs, The Aberration, Taking Back Atlantis, My Missing Half, and Begat The Nephilim performing, he can at least rest easy knowing that the music was good.  Here's a little taste of each band:
Is this East Hampton, CT band metal or hardcore?  We don't care because they crush it.
This Chester, VT two-piece has become a familiar sight in Connecticut.  Known for crazy stage antics and also having a dog who loves The Scene, these guys always give it 110%.
A newer band from Massachusetts, TBA had some live videos posted on their Facebook page.  Judging from their performance at Sammy's Patio October 9th, they're already in the Halloween spirit!
I'd never listened to My Missing Half before writing this article, but I was a fan three seconds into the song below.  Really looking forward to seeing this Boston melodic death metal band!
I've had the pleasure of hosting this New Hampshire metal band in Stamford, where they put on a performance that shook the foundation of Fiddler's Green.  A band that's as friendly as their music is brutal, I look forward to seeing BTN again.
If you've been following any of these bands on Facebook, you know that it's no coincidence they're playing together.  She Walks and The Aberration will be wrapping up a 10-date tour that night — on the first date of which, Taking Back Atlantis opened.  Likewise, BTN and My Missing Half will be playing eight dates together in the Northeast and South next month.  And Jesse is a common thread between all of them.   "This year, I wanted a party with not only some of my favorite bands in New England," he said, "but also bands that I hang out with outside of shows — bands that come to the parties at my house or stay there on their way through Connecticut.   After I booked the bands I wanted, I put the them and the rest of the Posidemic 'Ntertainment/Cherry Street Station crew in charge of throwing me a rager."
And a rager is exactly what he'll get.  Will you be there to help him celebrate?
This show is 21+, $5 at the door or free if you're wearing a costume.  Doors at 8 p.m.  Join the event for more information.
For all the Connecticut metal events you can handle, like Posidemic 'Ntertainment and Promoter Town on Facebook!  And for more from Alternative Control, like us on Facebook or follow on Twitter and Instagram at @AltCtrlCT!