by Nikita Alekseyevich Khrenov
Folk metal is one of those subgenres with a niche, devout fanbase. For many years, the Paganfest USA tour graced the country and brought fun bands from across the sea to dance and drink to, Korpiklaani being one of the most popular and beloved of those bands. With their 11th album Jylhä translated roughly to "Majestic," they continue to bring us their unique brand of folk metal — but how does their formula hold up this far in their career?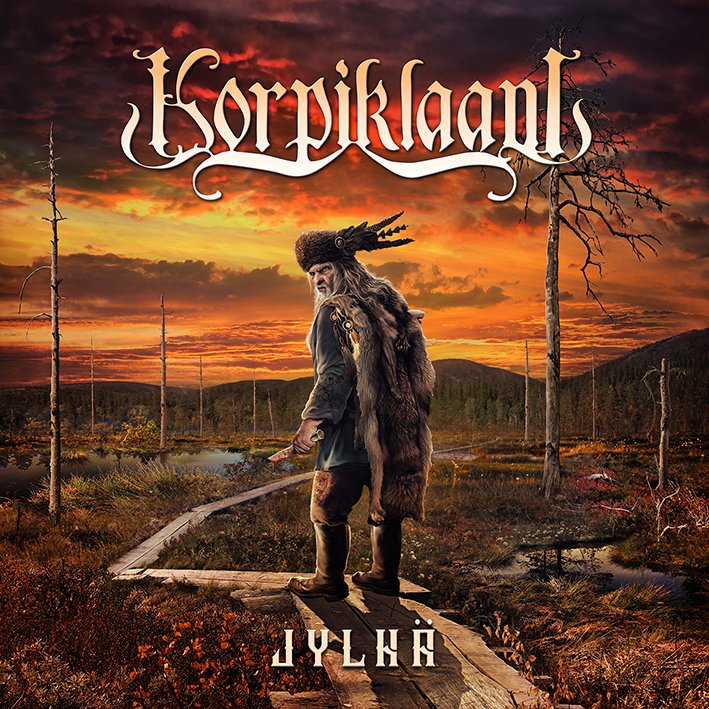 Right away the album (released Feb. 5th via Nuclear Blast) impresses with its 11-song track list, indicating quite the journey into their world. The first song starts right away with solid metal riffage accompanied by the trademark fiddle and accordion. A much more punk rock bridge is a surprising and pleasant change for the band and the back and forth soloing between the accordion and violin throws the listener into a Scandinavian party in the woods.
Other tracks such as the singles "Leväluhta" and "Mylly" further exhibit the band's foray into incorporating different styles of music into their formula. The former takes a much more laid back, almost reggae feel to tell its story while the latter takes the form of a traditional hook focused 80s metal song just sprinkled with a generous helping of folk elements to round out the sound.
The biggest drawback to this album is the surprising lack of really catchy lines and choruses. Overall, it feels like a lot of the songs are very wordy with no easily memorable lines to grab onto. Past albums like Manala and Korven Kuningas were packed full of songs that stuck in your head for days on end, but on Jylhä it takes longer for the tracks to really sink in the same way. The length of the album makes listening front to back a bit of a chore, with songs eventually melding into one another and plodding on a bit too much.
Korpiklaani is a beloved stalwart of the folk metal scene, make no mistake about it, and the band clearly has no problems experimenting with different sounds in their music; however, this album is an ambitious yet ultimately standard folk metal affair. Songs are bouncy and fun with folk influence in spades, but unless you're already a fan of the band and familiar with their work, you'd be hard pressed to give this album a second listen.
---
Connect With Korpiklaani
www.korpiklaani.live
www.korpiklaani.com
www.facebook.com/korpiklaani
www.instagram.com/official_korpiklaani
www.twitter.com/_korpiklaani
www.youtube.com/korpiklaani
www.nuclearblast.de/korpiklaani
---
For more from Alternative Control, find us on Facebook, Twitter, Instagram, Soundcloud, and bandcamp.  Plus, follow our brand new 2021 coverage playlist on Spotify! #nogarbagetracks
Enjoying our content? Support the site on Ko-fi and Patreon!