Ghost Tapes #10 is the tenth record from Ireland's God Is An Astronaut, who have, over the past two decades, built and cemented their reputation as masters of instrumental post-rock. This latest work is described in the press release as "certainly the most ferocious" of the band's albums. It also marks a return to the group's classic lineup, with Jamie Dean back in the fold alongside Torsten and Niels Kinsella and Lloyd Hanney. The record also features notable guest spots from guitarist Jimmy Scalan and cellist Jo Quail.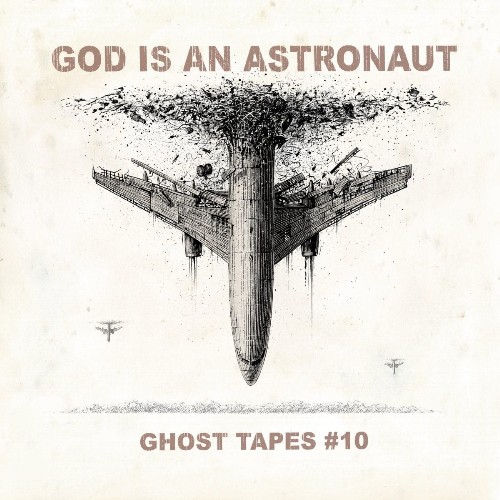 True to GIAA form, the music is lushly layered and thick with dreamlike intertwining melodies and effect-laden soundscapes. Much of the music is atmospheric and contemplative, but there are also a lot of intensely heavy sections. Ferocious indeed. In fact, this record often nods as much towards bands like Neurosis, Alcest and At The Drive-In as it does to the calmer ambience of Sigur Rós or Spiritualized.
The key feature throughout Ghost Tapes #10 is that of variation. No musical idea is laboured over for too long before another one dives in to usurp the former. Dynamics, keys, tempos and time signatures change frequently within many of the pieces. This constant movement lends the whole record a sense of fast-paced urgency. Even without vocal lines or lyrics to focus on, the changes in the music repeatedly tug the listener's focus towards it.
The other achievement that God Is An Astronaut manage magnificently throughout Ghost Tapes #10 is to create music that is powerful, dynamic, visceral and at times noisy, but that avoids being classifiable as metal. Instead of being concealed behind walls of thick distortion, the subtleties of the emotive melodic content are still discernible even when the music reaches its many climactic peaks.
There will be some people who would prefer it if bands like GIAA added vocals to all of their songs. There will also be those who see this sort of music as a "lightweight" alternative to progressive "post-metal" bands like Mastodon and Isis. Those, on the other hand, who are able to put preconceived notions about genre to one side and who are willing to submit to a wordless sonic journey that encapsulates a plethora of emotions will find Ghost Tapes #10 to be a captivating and richly rewarding listen. With this album, God Is An Astronaut demonstrate that instrumental post-rock neither has to be wrapped in the trappings of metal nor restricted to wistful psychedelic "background music". Ghost Tapes #10 is nuanced, delicate and evocative as well as being forceful, immediate and vital.
Ghost Tapes #10 will be released on 12th February 2021 via Napalm Records.
---
For more from Alternative Control, find us on Facebook, Twitter, Instagram, Soundcloud, and bandcamp.  Plus, follow our brand new 2021 coverage playlist on Spotify! #nogarbagetracks
Enjoying our content? Support the site on Ko-fi and Patreon!