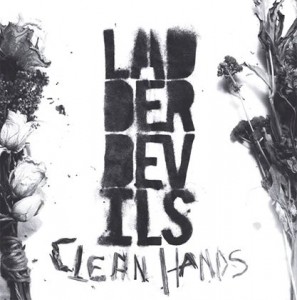 This Philadelphia based loud-rock band is part of a burgeoning noise rock scene that is currently taking over their hometown. Over the past few years, bands such as Pissed Jeans, Fight Amp and Bardus, amongst others have come out of the City Of Brotherly Love, and have made their mark with their loud and wildly weird sounds. In fact, Philly is making it's case for the East Coast base for this kind of music.
In the case of Ladder Devils, Clean Hands is their first proper full length, as their 2011 12″ Nowhere Plans basically collected two EPs onto one record. Also, each side of that release were recorded at different times and with different drummers, while Clean Hands features a stable line-up and was recorded mostly in one, shorter block of time.
It gives this album a more cohesive and focused sound, but it hasn't diluted an ounce of their power. They're still as loud and brash as ever.
"Remember The Tooth" opens with a swath of feedback, with the drums pounding out a primal thud, and a slashing guitar figure that gets heavier and noisier as the song progresses. "Midnight Eyes" throws in some urgent melody, along with a mid-paced lurch, that goes punk at the end. Speaking of noisy punk, "Hunt For Life" and "Eye Of The Mundane" goes fast and stay fast. "The Combine" features a big and heavy fuzzed out riff, to go with its big and heavy mid-paced thud.
They throw in a slight curveball in "Land Of Beauty," which layers in acoustic guitars and piano among the guitar carnage. This opens up their sound a bit. It shows that the band can change up the formula a bit to great effect.
Clean Hands establishes Ladder Devils as another great noise rock band to come out of Philadelphia. They have definitely upped their game, and this release will satisfy your urge for some loud and strange rock music.