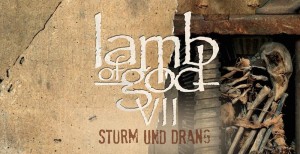 It's been a rough few years for Lamb Of God. In 2012, vocalist Randy Blythe was arrested in Prague for allegedly pushing a fan on-stage, who later died off-stage. Though acquitted, he spent five weeks awaiting trial in Pankrac Prison in Prague.  This put stress on the band as there were talks of taking a long hiatus.
But instead of doing that, the band re-entered the studio, taking all the "sturm und drang" (storm and stress) of the past few years and focusing it into one corker of an album.
Adversity can either destroy a person or it can bring out their best and in the case of  LOG it has lead to one of the best albums in their discography. "Still Echoes" opens the proceedings, and right off the bat, you can hear the extra urgency as guitarists Mark Morton and Will Adler, bassist John Campbell, drummer Will Adler, and Blythe tear into this song like a much younger and hungrier band. Blythe is particularly on-point, delivering a vicious performance on his track as he growls about the history of the prison where he spent five weeks of life. In addition, "512," which was his cell number while locked up, deals with crime and the personal and societal effects of it.
Blythe has always come off as a punk rock guy fronting a metal band; on this record, he channels all the primal rage and urgency of punk and hardcore into one of his best vocal performances. His time behind bars has re-focused his energies and made him come out swinging.
It also helps that the rest of the band follows his example. "Anthropoid" and "Erase This" are total ragers, along with "Delusion Pandemic", which is Blythe's pointed commentary on internet culture.
In addition, they stretch out just a little bit. "Echoes" adds some quieter almost shoegaze-like parts that are bolstered by Deftones' vocalist Chino Moreno's ethereal vocals. In addition, closer "Torches" adds some quieter parts and some clean vocals sung by Greg Puciato of the Dillinger Escape Plan, amongst the more rage-filled parts.
VII: Sturm Und Drang features LOG in full-on attack mode, re-energized and ready to take on the world. Hopefully, they have a few more albums like this in their future.