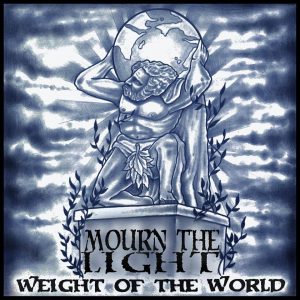 This week I was happy to get a review request from a great new band on the Connecticut heavy music scene, Mourn the Light.  The southeastern CT group formed in 2017 and have just released their three-track Weight of the World EP.  Citing influences like Clutch and Crowbar, this is a strong debut that will have listeners tapping toes — and after a few beers, banging heads.
This EP is immediately catchy, with singable choruses and guitar riffs that incorporate just the right amount of unpredictability — plus, guest guitarist Michael Kerr delivers the goods on "Weight of the World."  My favorite track is the closer, "Embrace the Darkness," which features a beautiful guitar lead after the chorus.
Stream and download Weight of the World on bandcamp, or order yourself one of 200 limited CD copies (which include a download).  Mourn the Light is a fresh, talented addition to the local scene and I look forward to seeing them live.
For more from Alternative Control, find us on Facebook, Twitter, Instagram, Soundcloud, and bandcamp.