On the flip side of the Nerd Talk's "shared culture" theme, I've also enjoyed getting submissions that discuss completely unexpected topics.  When members of Oakland post-doom band Daxma sent in their column, I was surprised to read about magic mushrooms and picture frames.  Yep, picture frames — or rather, "custom framing."  Didn't even know that was a thing!  But it turns out that Jessica (violin/guitar/vocals) has some sick home decor.  And as far as Kelly's (bass/vocals) choice of psychedelics, she challenged my notion of "shrooms" being just about getting blasted.  Read on to find out all about the nerdy stuff Jessica and Kelly are getting into…
Kelly: Psychedelics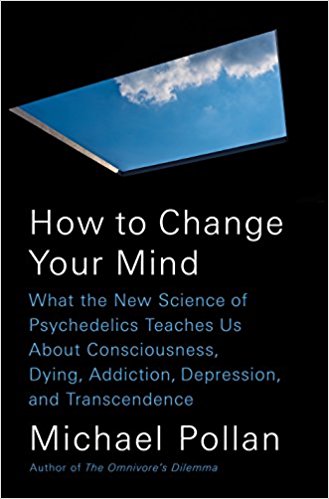 Roughly five years ago I had hit a pretty rough patch in my life. A friend and I drove out to the desert, ate a hefty dose of mushrooms, and over the course of a few hours I found myself able to clearly see and work though everything that had been mentally blocking me. The mushrooms did in four hours what years of therapy couldn't seem to accomplish. My previous experience with them had been as just another thing that got you high, but in that moment I realized how much of a positive impact psychedelics can have on the human psyche. I've spent the last few years reading anything and everything I can get my hands on regarding the psychedelic experience (I know most people immediately think of Timothy Leary, but I've really enjoyed the writing of Terence McKenna and Alexander 'Sasha' Shulgin).
I've also been experimenting on myself to gain more insight and knowledge. Psilocybin is my personal preference. I do one large dose annually to sift through the bullshit in my head and make clear plans for personal growth. It's become a healing tradition. Most recently I've begun a microdosing regimen as a potential treatment for my chronic migraines. Needless to say, I've become a big proponent of psychedelics for medicinal purposes, both mental and physical. I see it as a healthy thing to blast your mind open and examine the innards every so often. Next up on my reading list is Michael Pollan's new one, How To Change Your Mind. I'm on an airplane right now and can't wait to put this pen down and break it open.
Jessica: Custom Framing and Harry Potter
In preparation for this piece Isaac asked me, "What are you gonna write about Jessica? You have so many nerdy interests to choose from." I decided to pick two random topics: 1) custom framing and 2) Harry Potter.
Custom Framing
In high school and college, I worked part-time at different custom framing shops. As a result of doing this kind of work for years, I'm pretty particular about framed art. Whenever I see framed artwork in hotels, restaurants, etc. I'm probably gonna be a nerd about it and look at the mat corners to see if they were cut cleanly, check to see if the joints of the frame are lined up nice, and examining the aesthetics of the mat colors with the frame and whether they compliment the piece in my estimation. I've been collecting amazing prints and artwork over the years, procured either from the various shows I've attended or purchased directly from the artists, and they were just languishing in poster tubes in my closet. Last year, I *finally* got them all framed and up on my walls. I spent a good chunk of change doing so since framing is expensive, but I had saved up and justified it by telling myself, "I'm a grownass woman now, I want to decorate my home accordingly."
Some of my favorite pieces are:
David D'Andrea – OM West Coast 2014 tour print, special edition gold foil variant, No. 16 of 30. Framed with a gorgeous large wood frame that has a tasteful gold patina, and museum glass (museum glass is almost invisible, it has anti-reflective coating and also blocks UV to protect the art from fading).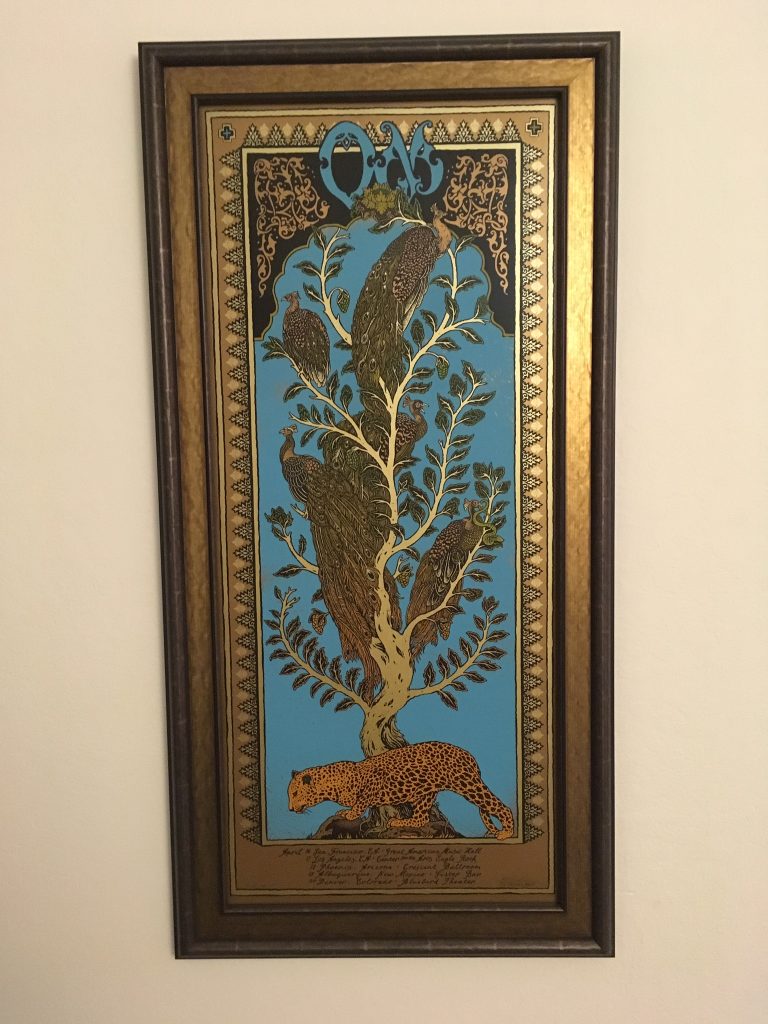 David D'Andrea – Sleep "The Navigator" Toronto/Montreal/Chicago 2016 tour print. Framed with a purple linen mat, metallic black fillet, acid texture black metal frame, and museum plexiglass (this is a huge and heavy piece, so glass is not an option!).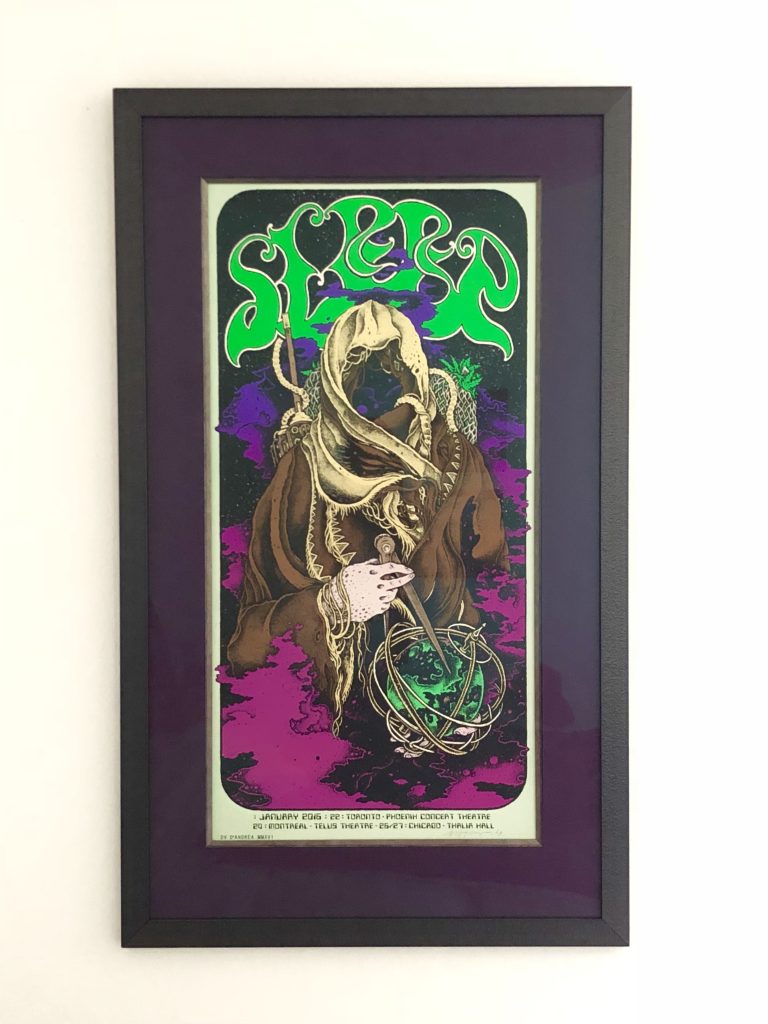 Arik Roper – Sleep Dopesmoker album art poster. Framed with a double mat (reptilian-textured top mat, sage green inner mat), espresso Roma wood frame, and museum glass. This is the pièce de résistance of my living room, it's a big horizontal piece hanging above my couch.
Skinner – Mastodon Mountain View, CA 2013 gig print. Since the artwork has so many vibrant neon colors, I decided to get it framed with an understated metal frame (matte black with silver inner edge) and museum glass. I was, however, sorely tempted by an intense acid-green metal frame reminiscent of Rita Skeeter's Quick-Quotes Quill. And speaking of which, this is a nice transition to my next topic of nerdiness.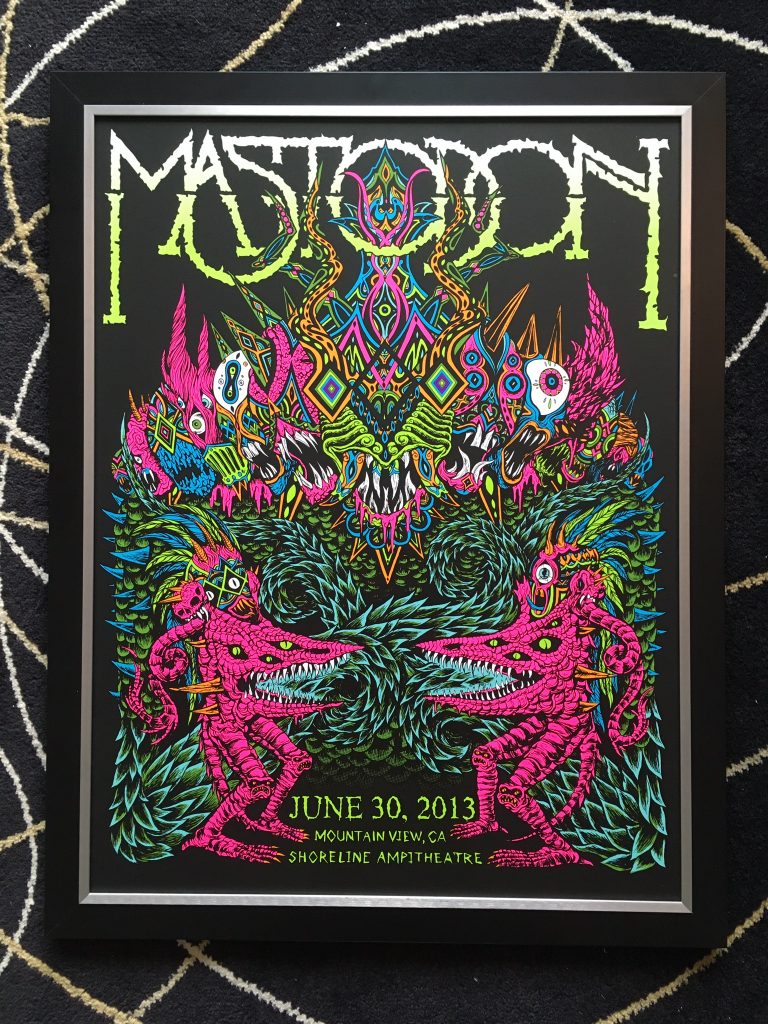 Harry Potter
Hi, my name is Jessica and I'm a Ravenclaw. I started reading the Harry Potter book series when I was 14, and immediately fell in love with the magic of Hogwarts. I've been to The Wizarding World of Harry Potter in both Hollywood and Orlando and you bet your ass that I dressed up in my Ravenclaw uniform both times, no shame. Hot tip: it's more fun to dress up at the Hollywood one, the employees there are way cooler and integrate you into the park experience (other Ravenclaws gave me high fives, Slytherins would hiss or boo at me). The employees at the Orlando park mostly seem to hate their lives, which is understandable given they are working in a crowded theme park in Florida. My brother (who is a Hufflepuff, and also dressed accordingly) was mistaken for an employee of the park multiple times while we were there, because apparently visitors to Orlando's park don't generally dress up and get in the Hogwarts spirit. But the Orlando iteration has two parks (Hogsmeade AND Diagon Alley) and they have the Gringotts ride (which I rode 3 times in one day) and the Hogwarts Express train so it's still worth the visit. My Ravenclaw uniform is not a costume store version, but rather is a quality cosplay version I put together myself (I got a nice wool sweater and sewed on a Ravenclaw patch, etc.)
I honestly don't know how many times I've read the books, it's at least 15 times each for books 1- 4, and probably in the ballpark of 5 times each for books 5-7. I have all of them on my kindle, which is extremely convenient. I love JK Rowling's writing, and the story itself touches my heart deeply. Harry Potter has gotten me through some rough times in my life. I recognize that Harry Potter does not conjure the same level of nerd literature respectability as say, Lord of the Rings or Dune does in the heavy metal sector, but hell. I love it. Maybe someday I'll write a Harry Potter concept album, there's plenty of metal imagery there for sure.
Luckily, I'm not the only HP nerd in DAXMA. Tom is a proud Gryffindor. We have had spirited conversations about our official Pottermore-issue patronuses and wands in our band group chat, much to the amusement (and annoyance?) of our other bandmates.
Check out Daxma on Facebook and listen to their 2017 release The Head Which Becomes the Skull below.  After hearing the album's ambient yet coherent journey, it's no surprise that this music was created by people who appreciate fine art with their mushrooms and don't care what your hipster cred thinks of their Harry Potter.
For more from Alternative Control, find us on Facebook, Twitter, Instagram, and bandcamp.
Thanks to Red Lead Media for help arranging this installment of Nerd Talk.