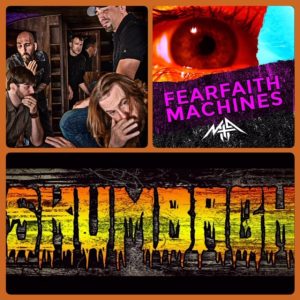 Plenty of interesting tunes have infiltrated the inbox this October….
With a fitting release date of October 31st, Runescarred's cover of "Moonchild" by Iron Maiden is sure to please oldschool metalheads and modern prog fans alike.  Frontman Ven Scott aptly takes on Bruce Dickinson's epic vocal stylings, with the band adding modern grit to the song's tone while staying true to the atmosphere of the original.  You can't hear Runescarred's Maiden reimagining just yet, but check out the Texas band's debut EP We Are below.  Fans of bands like Nevermore and Dark Tranquility (minus the keys) will get into this:
Next up, in a completely different musical direction, we have Skumbagh's upcoming release: #2 The Maze Crawler (coming out digitally on November 5th here).  The one-man industrial metal project of Kaos Reign guitarist/vocalist Bill Klopfer, it's reminiscent of KR material with but an experimental, isolationist spin.  Klopfer talked about the writing and recording process of the album in a recent interview with Alternative Control; check out the lyric video for "Stranded on an Island," an eight-minute journey into the mind of the maze crawler:
And finally, in the vein of one-man industrial metal projects, we come to Newburgh, New York's Martyr Art.  Mastermind Joe Gagliardi III is releasing his fifth album, FearFaith Machines, through ZineScene Records on November 22nd.  The intense musical palette incorporates influences from bands like Lamb of God, Fear Factory, Slipknot, and Static-X.  This album isn't streaming yet, but check out some of Martyr Art's previous work on bandcamp — and if your curiosity is piqued, enter the Instagram giveaway that Alternative Control is hosting!  You could be the lucky winner of the Martyr Art Coffin Box Set pictured below.  Visit @AltCtrlCT to enter!
…and for more from Alternative Control, find us on Facebook, Twitter, Instagram, Soundcloud, and bandcamp.