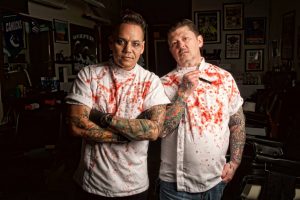 Dastardly Seattle duo The Cutthroat Brothers play dirty, amped-up blues punk with hints of rockabilly thrown in for good measure. Comprised of Jason Cutthroat (vocals, guitar) and former Zeke drummer Donny Paycheck, they work up a spooky juju on their self-titled debut. Basically, they take the sound of classic bands like the Cramps and the Gun Club, and put their own original spin on it. This is primitive garage punk that should tickle all your caveman urges.
Cutthroat wrenches all kinds of twisted sounds out of his guitar, augmenting his playing with the use of some cutting slide work. He also sings in a too cool for school croon, which drips with menace and allure.  Paycheck lays down a steady and driving backbeat. The album was produced by legendary producer Jack Endino, who gives it a gritty feel, understanding that music like this is better heard in the raw. This doesn't have to be overproduced to be effective. It is.
"Kill 4 U" opens the album with Cutthroat crooning about doing all sorts of dastardly deeds for the one he loves, while coaxes some raw sounds out of his guitar. "Skeleton Rides" and "Potions & Powders" feature driving rhythms and more slide abuse from Cutthroat. Paycheck's playing is always spot on, knowing when to lay back or go for it, depending on what the song calls for. "Violent Crimes" and "Teenage Pain" are slow burn, psychobilly ballads, full of menace, while "Psychic Chemist" and "Snake Breath" help close out the album, by rockin' the house. (Probably a haunted house.)
So, just in time for Halloween, these "Demon Barbers Of Garage Punk" lay down one righteous racket which is sure to appeal to all the cool ghouls out there. It's one rockin' racket. It will definitely keep your fires burning all through the night. Order yours here. You need to get dirty.
For more from Alternative Control, find us on Facebook, Twitter, Instagram, Soundcloud, and bandcamp.