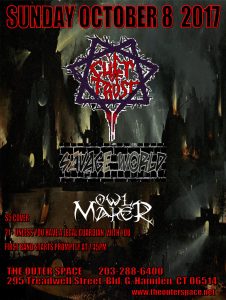 The Outer Space sure has a busy weekend coming up!  The Hamden venue, known for excellent curation of both music and beer, is hosting Metz on Saturday October 7th via Manic Productions.  Then on Sunday October 8th, Lisa Sanchez Gonzalez is throwing a hurricane relief benefit in the afternoon and Ohio Celtic Frost/Hellhammer tribute Cult of Frost is rolling into town that evening.
My own band Owl Maker is opening the Cult of Frost show, so in a very non-biased journalistic choice, I had a virtual sit-down with their drummer Charlie Taylor.  Here's what he had to say about the band and his connections to Connecticut:
Why did you choose, of all the possible metal bands, to form a tribute to Hellhammer and Celtic Frost? 
I have been wanting to do this since Celtic Frost broke up the first time, but there was no interest at the time. The timing is right now  (because) there is all sorts of interest in the classic old material; since there is no way in Hell that Celtic Frost would reunite again, I started this band with two of my friends from the Columbus underground scene that I had never worked with before, and it was like magic. These guys were totally into Hellhammer and Celtic Frost so it was a no brainer. There was another Celtic Frost tribute in Cleveland I saw at the first Konya fest, in memory of the late Jim Konya of NUNSLAUGHTER; they were called NECROMANIAC UNION and featured my good friend Duane Morris.  They were definitely the catalyst that made me do it  and actually make it happen.  Since then, they have become inactive and we have taken the torch and are spreading the music and legacy  of Celtic Frost and Hellhammer to people who may or may not have ever gotten the chance to see this music performed live.  It is very sonically and spiritually rewarding to see the fans go off and appreciate what we do.
Celtic Frost went through several different musical phases over the course of their career.  Which is your personal favorite, and why?  Is there one (or a couple) albums the band focuses on, or do you play music from across their discography?
The first part of this two-part question is really easy for me to answer: my personal favorite is To Mega Therion.  I am sure Beau will tell you his favorite is Morbid Tales and Chrys will say all of the Hellhammer demos hahahahaha…  (Editor's note: local author Chip McCabe rated Morbid Tales 14th out of the 666 most influential metal albums in his book 666 Days of Metal.)  I love To Mega Therion because it is very dark, cold, and heavy as fuck and the song structure is awesome.  The second part of the question is my favorite part to answer… We do everything from the 1983 Hellhammer demos all the way through 1987's Into The Pandemonium…  Only five songs off of Pandemonium though because half of the album doesn't translate well in a live setting.
Cult of Frost formed fairly recently.  How did you get in shape to travel the country so quickly??
We started the band around St.Patrick's day of this year, 2017.  We practiced hard until the second week in April when I was hired by STONECUTTERS, a killer metal band out of Louisville, Kentucky to tour with them out to the west coast and back for three weeks. When I got back we busted ass and played our first show on May 6th with Cincinnati thrashers SPLIT THE ABYSS, and my old friend Ron Vanacore's band CURSE THE SON from Connecticut in the middle. What an amazing time!  Since May we have played a bunch of shows. I believe by the time November 18th's show in Pittsburgh we will have played 19 shows since May 6.  We are road warriors! Hahahhahaha…
Do you or the other band members have any original projects that will be hitting the road in the future?
CULT OF FROST  will be writing original material this winter in the style of Morbid Tales and To Mega Therion. Chrys, our guitarist  is actually the drummer for two  other bands: ODDVOCADO which is an amazing punk band that reminds me of DESCENDENTS crashing into NIRVANA  and sideswiping BLACK FLAG, […] and a two-man group called BLOODY INCISORS which is heavy and melodic and indescribable… They are just good.  Beau is in a punk band also called SOPHOMORE and I believe he is also in a two-man group with his brother Alex Barnett called THE YETIS… They are crushingly heavy stoner doom, mostly instrumental. I am only doing CULT OF FROST.
You're originally from Connecticut, right?  How did you end up in Ohio?  Is there anything in particular you're looking forward to when you come back east?
Yes I am originally from Connecticut.  I have played in a bunch of Connecticut punk and hardcore bands throughout the late 80's early 90's…  To make a long story short, I was jobless and homeless for a while and I met a girl who was going to school out here in Columbus; she sent me a bus ticket to come visit her.  I liked it, I moved,  and here it is 22 years later!  The thing I look forward to about coming back east is to experience it with Beau and Chrys who have never played out east.  I am super stoked to introduce them to my old friends, and to see my mom.  It's been a while.  I am also looking forward to making some new friends.
You happen to have booked a show at one of Connecticut's best music venues, The Outer Space.  What was your favorite CT venue from back in the day?
My favorite venue is THE ANTHRAX — hands down the best place to see shows in southern Connecticut.  I have seen many memorable shows there. I think my favorite show from The Anthrax will always be the very last show my old band PAYBACK did there…  It was the second to last show of the club before the doors were closed forever.  It was a sold out show… there were so many people on the stage with us and stage-divers were falling like rain.  I'm looking forward to the memories we create in Connecticut with CULT OF FROST.  Seeing CELTIC FROST in their prime with VOIVOD  and BLACK WYTCHE was an amazing moment in Connecticut metal history for sure.  For those of you who didn't get that opportunity,  we hope CULT OF FROST  will at least fill some of that void.  Thank you for the interview and we look forward to destroying Hamden, Connecticut on Sunday, October 8th with SAVAGE WORLD and OWL MAKER!
And that's a wrap, folks — come early for the hurricane, stay for the Frost.  Facebook event here.
For more from Alternative Control, find us on Facebook, Twitter, Instagram, Soundcloud, and bandcamp.