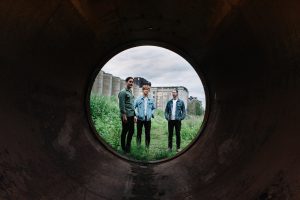 Metz are a modern loud rock band worthy of your attention. The Toronto trio, which features Alex Edkins (guitar and vocals), Hayden Menzies (drums) ,and Chris Slorach (bass), has won accolades and fans for their powerful and visceral sound, which draws inspiration from noise rock, post hardcore and shoegaze. In addition, they are one of the best live acts going today. They are loud, energetic and cathartic.
Recently, the band just released their excellent third album for Sub Pop, Strange Peace, and are hitting the road in support of it.  This tour includes a stop at the Spaceland Ballroom in Hamden on October 7. With their local show just about a week away, we thought it would be the perfect time to send Edkins some questions and get the scoop on the new record, recording with Steve Albini and what informs their lyrics, among other subjects.
You don't want to miss this show.
Between the last full length and this one, you released a bunch of 7″'s, including some splits with Mission Of Burma and John Reis. What made you decide to do these? Does working on the 7″'s help you hone material for the full length albums? 
Yes, it's important for us to keep working at all times and try to expand on what we are doing. Its also a lot of fun to work with different people in new situations. John Reis showed up at our San Diego show smoking a cigar and drinking tequila and was like, "I love your band, I'm gonna book a studio and we should make some music." Simple as that. We all really respect and admire his musical output. Drive Like Jehu, Hot Snakes, RFTC are bands we love. The same can be said for Mission of Burma. I'm still amazed that they agreed to cover our song. Its a crazy thing.
After two critically acclaimed albums, did you feel any pressure going into the recording of Strange Peace?
No, I think for the first time ever we felt very little pressure. We knew we were going to do exactly what we wanted. I think we had a newly invigorated confidence during the making of the album and it took us to new places.
What made you decide to work with Steve Albini on it? How did the sessions go? 
We felt his way of working (really fast) would benefit our new songs. We didn't want to get stuck over thinking the songs. Recording live to tape forces you to go with your gut and keep things spontaneous and raw. It was a real pleasure to work with him. He was incredibly easy to get along with and was game to work 12 hours a day.
After you finished working with Albini, you took those recordings and finished working on them at home with Graham Walsh. What made you decide to take this approach? 
Well, I hadn't finished all the lyrics yet, that was the main reason. We also wanted to have time to experiment on a few songs and try to layer some instruments on top of what we did with Steve. Graham is a fantastic engineer and he has worked on every album we've made. We go down into his basement studio and just try all our crazy ideas and see what sticks. For example, the Moog on "Drained Lake" came from those sessions.
What were you trying to address in the lyrics? Does the album have a certain theme to it? 
I wouldn't say there is one theme or concept that runs throughout the album, the songs deal with everything that was happening in my life during that time. As a whole I think it covers a lot of bases. Politics, social media, freedom of speech, self doubt, relationships, the uncertainty of life. The title Strange Peace refers to the calm before the storm, the eerie quiet before a gigantic sea change. I was feeling that my life was about to go through some major changes and I was unsure of how to adjust or cope.  The album artwork refers to that as well with the sun and snake representing the idea of rebirth.
You're known for being a very loud and in your face live band. How do you prepare for your shows? Do you have any rituals you do beforehand? 
We don't really have any rituals. Does having a beer count? I usually try to avoid talking to people for at least 10 minutes before we play but that can be pretty difficult sometimes.
What are the future plans for the band? 
We plan to tour Europe, Asia, Australia, America and Canada in 2018.
Check out the Facebook event for Metz's October 7th show here.
For more from Alternative Control, find us on Facebook, Twitter, Instagram, Soundcloud, and bandcamp.