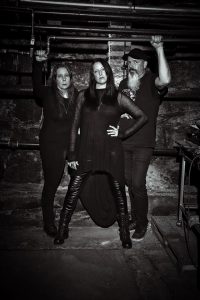 Benthic Realm has quite a run of weekend warrior dates ahead of them!  The Massachusetts doom trio will be joining our friends Bone Church and Dust Prophet as well as Barbarian Thieves this Saturday at 13th Floor Music Lounge in Florence, MA.  Then a couple weeks later, it's down to Jewett City for Day Two of New England Stoner Doom Fest (May 4th at Altones).  Benthic will be back in their home state on May 18th at Ralph's Rock Diner; then they'll take a longer drive to play Maryland Doomfest on June 21st.
Annnnnd, they might think I'm a creepy stalker because I'll be at two of those shows.  I'm checking out their EP We Will Not Bow right now for the first time.  Opener "Save Us All" crushes right out of the gate with powerful drum stops and crunchy guitar riffs, and surprises with some harsh singing towards the end.  "Thousand Day Rain," the second track, lives up to its title; dramatic vocals and hypnotic rhythms wash over the listener like unrelenting floodwaters.  The following track "I Will Not Bow" kicks the tempo up a notch but eschews vocals, letting listeners imagine their own path beneath the undertow.  But never fear, the soulful singing returns for closer "Untethered."
Overall, BR's grunge-influenced riffs and straightforward arrangement make for an aggressive, unpretentious slab of doom.  I'm looking forward to experiencing this band live!
Get your NESDF single-day and weekend passes here.
Connect with Benthic Realm
Connect with NESDF
For more from Alternative Control, find us on Facebook, Twitter, Instagram, Soundcloud, and bandcamp.