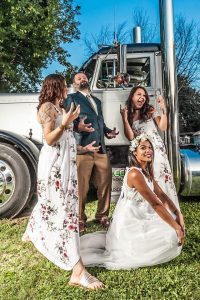 What better way to kick off a long weekend of doom than with a kickass, mysterious band from really far away?  SCENE Productions delivers the mystique with Rochester NY's Fox 45.  They'll be sharing the stage with Rhode Island's premiere Magic The Gathering-themed trio, Dark Ritual, Feed the Beast of Taunton, Massachusetts, and Connecticut outfits VRSA and Owl Maker at the New England Stoner and Doom Festival Pre-Party Bash.
At first listen, Fox 45 conjures Grace Slick fast-forwarded sixty years: we've went from making "love not war" to making love to our devices as corporate oligarchs slowly tighten their grip on our throats.  But Fox 45 is here to save us!  "Revolution has begun," the ladies croon on "Coup d'etwat" off their most recent album Ashes of Man — and they're not buying any of your "Snake Oil."  The vocals have a throaty rasp that matches the dire fuzz of the guitar tone and the rumbling grit of distorted bass.  This "cosmic proto-metal" is sure to have everyone standing up front and raising their PBRs.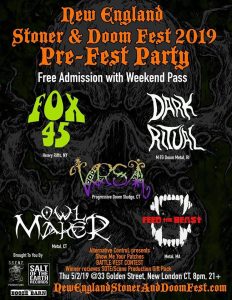 Catch Fox 45 and friends on Thursday May 2nd at 33 Golden Street in New London, to kick off NESDF.  The show is free with a weekend pass for the fest, and don't forget to wear your battle vest!  The best one wins a prize pack from SCENE Productions, Salt of the Earth Records, and Alternative Control.
Join the Facebook event here.
Get your NESDF weekend passes here.
For more from Alternative Control, find us on Facebook, Twitter, Instagram, Soundcloud, and bandcamp.