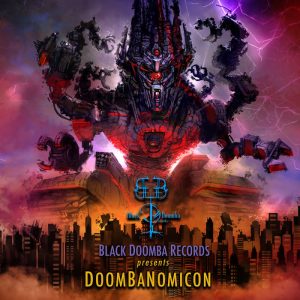 Doom comps are all the rage these days!  Georgia label Black Doomba Records is releasing Doombanomicon, a collection of thirteen doom songs from every subgenre niche; it's currently available digitally through bandcamp and out on vinyl this May.
"This is not a compilation," says Black Doomba owner Tommy Stewart.  According to the press release, "It took Stewart six months to hand-pick the right artists for this collection, and as a result of this precision the thirteen tracks all complement each other while highlighting…."  Yadda yadda yadda, so on and so forth…..  Relax, brah, it's a compilation.   BUT it's a comp with killer tunes artwork, coming soon in a tangible and nondisposable format!
https://www.youtube.com/watch?v=5yt0XTGXxoI&feature=youtu.be
It makes my heart happy to see people putting effort into things like this, endeavors that lift the whole scene.  Like for instance, I'm listening to Stoneman at the moment, a band from Georgia that I'd never heard of before — but now I just liked them on Facebook and I'll keep an eye out for their future endeavors.  See?  Easy peasy!
Well, not really "easy peasy."  Putting together a comp is a lot of work, nevermind getting it on vinyl and printing t-shirts and patches for it like Stewart is doing.  He is making something truly memorable and I hope people support it.  (However, I suggest making the bandcamp download Name Your Price.  It seems to be working for Volume Doom, although I'm not trying to offset the expense of making actual records.)
But enough about the logistics, how about the music?  The retro riffage from Texas outfit Doomstress stood out, as did the dire melodies of UK quartet Gallow God.  Speaking of which, one important aspect of compilations is to cross-pollinate; Stewart did this well by choosing bands representing a variety of locations, subgenres, and labels.
Curious?  Stream Doombanomicon, download, and pre-order the vinyl here: https://blackdoombarecords.bandcamp.com/album/doombanomicon
Want EVEN MORE doom compilations??  Silly question, of course you do.  Download Alternative Control's Volume Doom here: https://alternativecontrolct.bandcamp.com/album/volume-doom
For more from Alternative Control, find us on Facebook, Twitter, Instagram, Soundcloud, and bandcamp.