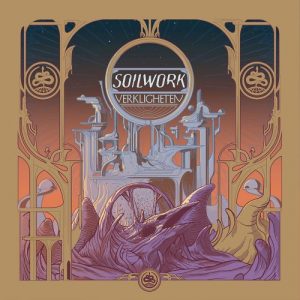 I can't think of a better way to start off a hopefully busy 2019 of album reviews. I've lost track of Soilwork's output since the Natural Born Chaos days of yore. Verkligheten makes me think that I've been missing out.
Last time I left Soilwork, they were in the process of reformatting their music to fit a larger audience — clean vocals, metalcore riffs and pop sensibilities. You can call it artistic exploration, I call it dumbing down. Many melodic death metal bands at the time were going down the same path. I didn't agree with it, and so abandoned the genre (save for Dark Tranquillity) altogether. But there's always been one thing about Soilwork. No matter how simple and cheesy their music may have gotten, they still crafted it with gusto. They're a very passionate band, their music always coming across with a great deal of confidence. I knew I'd come back to them one day.
I'm pleased to say that on Verkligheten, and possibly way before that, they've figured out how to bring old-school Soilwork energy back into the formula for that added bite to melodic gloss. Aggression and accessibility come through in equal measure here, swirling together contradictions like heartfelt blastbeats, extreme arena death, thrash pop, in a very digestible and enjoyable package. These made-up terms doing anything for ya?
These songs do have a homogenous line. It's not a particularly diverse album. The verses are tense and turbulent, the choruses high and soaring. All songs serve the pop format with vigor and brightness, with just enough compositional range to keep things interesting. "Arrival" is a beast of a song, the kind of track that I want to play over and over. It's bombastic, emotionally gripping, fast, and classy; a perfect flagship for the rest of the album. "Full Moon Shoals" is a mid-paced stomper with a few faster surprises thrown in to keep the listener guessing just what kind of thrash pop song (there's that term again) is coming. "The Wolves Are Back In Town" title is obvious homage to Thin Lizzy, and the riffs feature the same kind of exuberance and amusement found in 1970s hard rock, but with a shitload more distortion and wickedness. The speedier break about one-third the way into the song is a fantastic party; the chorus belongs in an apocalyptic 80s movie.
It's the way the album flows that really sets it apart from other melodeath releases. Every song fits perfectly on its rung leading up this carefully engineered skyscraper of metal, light, and lavender cheese. (God I love that album cover, by the way. It's like a Roger Dean painting meets Sonic The Hedgehog 2 "Oil Ocean Zone.") There's not a moment of filler or faltered pace. The build-ups lead to payoffs, comedowns follow speed, clean vocals bring home what harsh verses promise. All in all, a track placement masterwork.
Much like Judas Priest's Firepower almost a year ago, this is one hell of a blistering dopamine kick to the fist. It's albums like this that remind me why metal is still my favorite genre of music. It warms me to know that bands that have been in business over 20 years still have plenty to offer an expansive genre that could have easily forgotten them a long time ago. Soilwork was almost forgotten by me, and they've fought their way back. Opeth, are you reading this?
For more from Alternative Control, find us on Facebook, Twitter, Instagram, Soundcloud, and bandcamp.