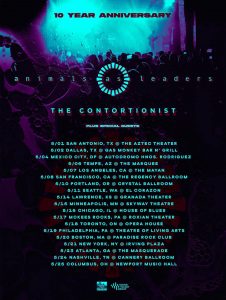 2019: a year of chock full of awesome albums celebrating ten years of heaviness. This includes Crack the Skye by Mastodon, Constellations by August Burns Red, and The Harvest Floor by Cattle Decapitation to name just a few. But in 2009, the metal world turned upside down with the self -titled debut of a band called Animals As Leaders. Blending metal, jazz, and electronica on never before seen levels, the band returned to New York to celebrate a decade of success. Joined by The Contortionist and Moon Tooth, Alternative Control took a walk down memory lane and ended up On the Front Line!
Close your eyes and imagine the following situation on stage: Baroness covering Periphery. A bit of a stretch isn't it, what kind of band would attempt that, much less pull it off? The answer, according to chants of the 800 person strong crowd at Irving Plaza was Moon Tooth. The Long Island based quartet raised a glass to commend their homecoming show before churning out forty minutes of genre defying progressive goodness. With an impressive resume of tours to their name and the release of their second album, Crux, this past March, here's hoping for the day we get to wish Moon Tooth a happy tenth birthday!
With bands such as Plini and Skyharbor growing in popularity, much of the framework they are now a part of was built by The Contortionist. Coming from Indiana to take the crowd on a trip beyond the stars, the six piece space-core unit opened with four songs off 2017's Clairvoyant. Revisiting their more aggressive early years, the band shifted gears into "Flourish" from their 2010 debut, Exoplanet and "Solipsis" off 2012's Intrinsic. Summarizing their balance between light-ethereal and heavy-concrete, the set was closed out by a performance of the two part title track from 2014's Language.
Once a juggernaut band wedged between Vital Remains and Carnifex at Summer Slaughter 2010 (also held at Irving Plaza,) it is fascinating to see Animals As Leaders evolved into the band they are today. As blue lights washed over the stage, the sold out show came to life with the opening notes to the 2010 single "Wave of Babies." Bringing the crowd back to year zero, "Tempting Time" off the self-titled debut album transitioned to "Thoroughly At Home," which made its first reappearance on the setlist in five years. Back to back performances of "Arithmophobia" and "Cognitive Contortions" were the first cuts off AAL's most recent offering, 2016's The Madness of Many.
Another throwback for the evening came from a blended performance of "The Price of Everything and the Value of Nothing" and "Behaving Badly," both off the debut album. Recovering from a dazzling play through of "The Brain Dance," feet left the floor for the 8-bit influenced fan favorite "Ectogenesis." Try listening to the latter song and say it doesn't remind you of something you would hear in Megaman or Sonic the Hedgehog – bet you can't!
Some found their way to Animals As Leaders through the first album, others discovered them by way of 2014's The Joy of Motion. As a thank you to fans of both generations, the band tipped their hat and said goodnight to New York with a tear jerking performance of "CAFO," the song that started it all, before charging into an encore with the heart pounding (pun fully intended) "Physical Education."
Complimenting those "rocking the O.G. tour shirts" during the pre-show meet and greet, it is strange to think that the project started by Reflux alumnus Tosin Abasi would go on to sell out show after show in just ten short years. In an interview with Ola Englund (guitarist for The Haunted) this January, the future of Animals As Leaders remains unclear. Perhaps the next tour cycle will include tracks from 2011's Weightless, the only album to not make the setlist this time. Currently free agents and without definitive plans to record, here's to another decade of mind bending music!
Rodey Tsapralis is a musician and graduate student studying international affairs.  Check out his project Xelacayan, a Mayan-inspired fusion of jazz and metal.
For more from Alternative Control, find us on Facebook, Twitter, Instagram, Soundcloud, and bandcamp.