Every once in a while, you come across a group that I like to call an "old sweater" band. You pop the album into your tape deck or catch them on tour and it just feels like home. To have one band on a tour fit this criteria is special enough, but to have a full bill of the sort is truly a magnificent event. Such was the case for sludge metal/progressive rock veterans Baroness and Torche, who rolled into Poughkeepsie's Chance Theater for a night of all things spacey and heavy. It's no secret that we at Alternative Control love us low-tuned prog, so of course we were On the Front Line!
Hailing from Miami, Florida, Torche took The Chance on a journey through time and space with their unique blend of mind bending music. So well crafted is their art that even the most simple sections never feel droning, instead providing a magic carpet to step onto. Celebrating the release of their fifth album, Admission, the very day of the show, the band performed the record nearly cover to cover. Standouts for the evening included the title track, "Slide," and "Times Missing," the last of which had even venue staff nodding their heads in rhythm.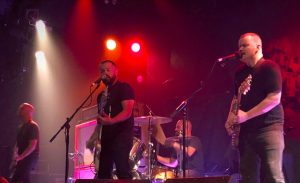 Not unlike another sludge/prog hybrid band named after a prehistoric mammal, Baroness has undergone a significant evolution since their 2007 debut. The proof came as things kicked off with back to back cuts from 2009's Blue Record, exhibiting the band's more traditional sludge roots. This contrasted greatly with Gina Gleason's haunting harmonies with John Baizley, both of whom hold down guitars in addition to vocals, exhibited in "Borderlines" off Gold & Grey released this June. Gleason further shined in "March to the Sea" off 2012's Yellow & Green, sending chills down spines belting the words "Valium: you left me all alone."
While a majority of the set was played with "just like record" precision, the performance of "Tourniquet" brought the Gold & Grey track to a new level. Already gripping enough, the emotionally charged opening lyrics reached a pantheon set by songs such as Simon & Garfunkel's "The Sound of Silence." The song's rumbling bass and impeccable drum line shined the spotlight on Baroness' rhythm section comprised of Nick Jost and Sebastian Thomas respectively.
The awe inspiring vibe continued with a play through of "Eula," the closing track from Yellow and Green. At nearly seven minutes in length, the song united the strengths of all four members into a mega package of progressive power. Taking things back to Purple, "Shock Me" broke the somber atmosphere with its quicker pace and hop-inducing groove for a moment before "Chlorine & Wine" reinstilled the mood. As the only song performed off the 2007 debut Red Album, "Isak" brought many fans back to the moment they fell in love with Baroness. With enough steam left for one more encore, "Take My Bones Away" had hands in the air and voices singing loud before the final bow of the evening was taken.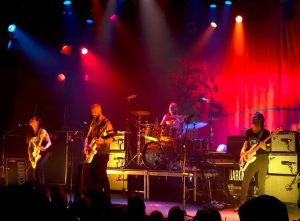 A closing thought on "old sweater" bands is that they can easily fit into many different lineups. While Baroness and Torche certainly match with bands like Crowbar and Intronaut, they could just as soon share the stage with Between the Buried and Me and The Contortionist. Through their clear dedication to bettering themselves with every record, here's hoping to see them find exposure to these and other audiences worldwide.
Visit your favorite record store to pick up Gold & Grey and Admission.
About the Author: Rodey Tsapralis is a musician and graduate student studying international affairs.  Check out his project Xelacayan, a Mayan-inspired fusion of jazz and metal.
For more from Alternative Control, find us on Facebook, Twitter, Instagram, Soundcloud, and bandcamp.