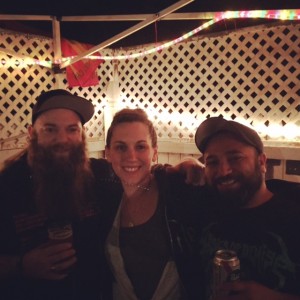 There's nothing I love more than a long, contentious comment thread about other people.  So after reading a couple posts that not-so-subtly referred to what local booking and promotions collective Promoter Town was doing in "the scene," I thought, "Why not sit down with these guys and hear them explain what they're trying to accomplish?"
On Tuesday April 14th, that's just what happened.  I met Eric Iocca and Jesse James at The Outer Space in Hamden, where we talked for almost an hour about how they run Promoter Town and why they put it together (and then spent another couple hours eating nachos, drinking beers, and smoking Pall Malls).
Here's the short version: Promoter Town began earlier this year as something of a gentleman's agreement  between Jesse, Eric, and Brian Almeida.  The three friends each had their own promotional endeavors and came to realize that it would be better for them to alternate their individual shows so that they could all enjoy each others'.  This has ballooned into a larger network that now includes Ear One Productions, Drea Marie Presents, and various local media entities.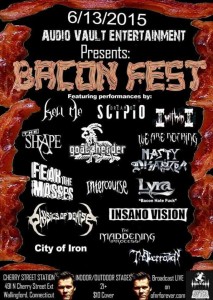 But Promoter Town's members are not necessarily in lock-step with each other — I can't speak for the rest of them, but Eric and Jesse had different ideas about everything from how to figure out set times to what a unified Connecticut metal scene should look like.  It became clear as the interview went on that Jesse is more of the gung-ho optimist, while Eric is the laid-back devil's advocate.
One more thing that became clear (and that I pretty much already knew about Eric from working with him on past shows) is that these guys' only ulterior motive is to have a little fun.  They're not making a ton of money, if they're even making any at all.  They're welcoming to newer, smaller bands and they create connections between bands that wouldn't hook up otherwise.  While I still don't think an idea like "one night, one show" is realistic for bands and venues, and no one gave Promoter Town the keys to the city, Jesse and Eric are indeed trying to "feed the positive wolf" in their booking endeavors.
But don't take my word for it — listen to the interview, check out a Promoter Town show, and make up your own mind.  If you're not having a good time, you're the one missing out!
Visit Promoter Town on Facebook for a complete list of upcoming events.