On Friday June 5th, bandcamp is waiving their revenue share — so that means more money goes to the bands you love!  Now the question is….  Which music to get??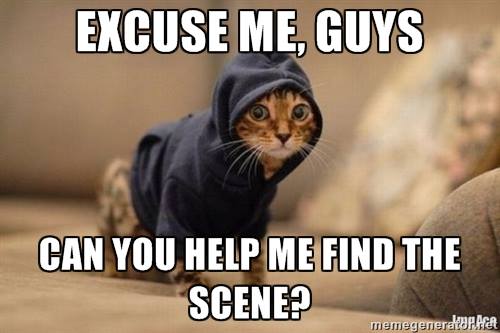 Don't worry, Scene Cat, Alternative Control has a few picks for ya!  Enjoy….
Hypnotizing doom band Old Blood is kicking off a limited-edition vinyl preorder for their new album Acid Doom.  Be the first to grab the new record from this up and coming Los Angeles band!  It won't be visible until June 5th, but check out this 2019 single for a taste of what you're getting into:
If the Connecticut readers are looking for music close to home, New Haven's Chad Browne-Springer has a recent single called "Lakeside."  His band Phat A$tronaut also released a cool song that the blog reviewed earlier this year, "Rare Fruit."  
Sarah Golley is another great New Haven songwriter who is very active in the local music community.  In addition to running the Facebook group CT Original Musicians-Master List, she recently started the group Celebrate CT Black Artists.  Anyone is welcome to join, but please only post your work if you are a black artist.  Sarah's most recent full-length is below:
Connecticut's doom movers and shakers Mourn the Light are recording a new album!  Make a bandcamp purchase to help them on their way!  Plus, you can contribute to improvements for Altones here.
Ye Olde Editor's band Turkey Vulture is donating Bandcamp Friday's back catalog proceeds to the Connecticut Bail Fund — listen to some "punk meets sludge meets Dolly Parton" here. 
And finally, don't forget your friends at Alternative Control have a bandcamp page too!  Check out our compilations to help support the site. 
Wait wait wait, one more!  Speaking of AltCtrl comps, remember Witching from Volume Doom??  Their new album Vernal comes out on Friday June 5th and they'll be donating 75% of the profits to the Philadelphia Community Bail Fund and the Black Visions collective.  Yep, we know how to pick 'em!
Certainly this is not an extensive list of all the cool stuff you could buy on bandcamp, or all the good causes you could support, but it's a few of our favorite fish in the sea.  A brief foray into Metal Twitter will yield many more such lists — spreadsheets, even! — from many music bloggers.    
#blacklivesmatter
Thank you for reading.
For more from Alternative Control, find us on Facebook, Twitter, Instagram, Soundcloud, and bandcamp.  Plus, follow our 2020 coverage playlist on Spotify!