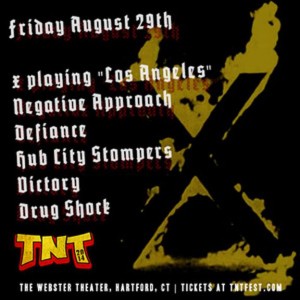 By Matt Mullarkey
For those not already in the know, TNT Fest has taken place at the Webster Theater in Hartford Connecticut every Labor Day weekend since 2011, showcasing on multiple stages the best punk, Oi!, and hardcore bands from all over the country and the world.
I haven't been able to attend since the initial one in 2011, (where I witnessed amongst other great bands AMAZING headline sets by Cockney Rejects and The Business over a two day period) but since one of my absolute favorite bands of all time were headlining the Friday night show, (X, from Los Angeles) my attendance was MANDATORY.
Arrived at the Webster parking lot minutes before door time and gave $5.00 to the attendant who looked like he was recently turned down at a "Duck Dynasty" spin-off casting call. (Warning; the Webster lot is THEE sketchiest place in Hartford to park, and their sketchy looking attendants failed to put my mind at ease that I wouldn't come out to find my stripped-to-the-frame 2007 Chevy after the show.)
After being thoroughly frisked for drugs and weapons of mass destruction by a rather butch female bouncer, I went in and immediately made a sharp right towards the side bar for some much needed alcohol in my bloodstream. I was curious to see amps and microphone stands being set up on the small stage next to the bar. I assumed a band of X's caliber would have certainly put the show in the big room on the main stage.
I asked a friend of mine selling band merchandise what the deal was, and he told me there had been hardly any advance ticket sales and that the promoters decided that night's show best take place in the small room. My head kinda exploded at the thought that besides me and a few other attendees, no one else had purchased advance tickets. But more so, the anticipation of seeing the legendary X in a room that could maybe legally hold 300 people had my head spinning in anticipation. This seemed too good to be true…
First up that evening was Connecticut's own Drug Shock (below), consisting of ex members of Iron Cross, Forced Reality, and Copyright Chaos. Although they only played to the first 30 or so in attendance at that point, they played as if they were in front of a crowd 1000 strong. Hopefully next year these boys will be given a better time slot to showcase their might.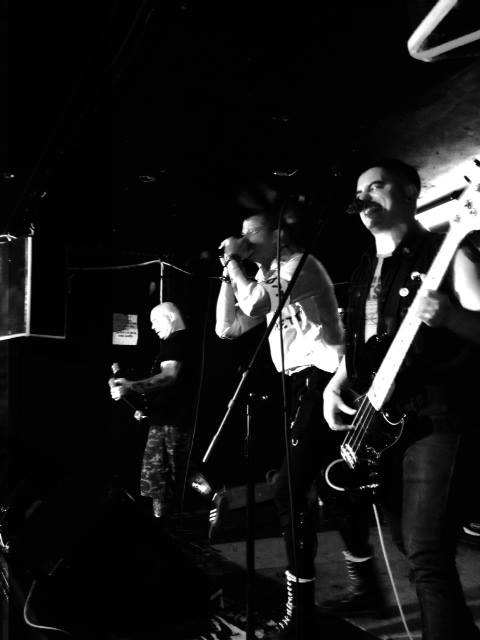 Up next were Hub City Stompers from New Jersey. This band has been around forever, playing traditional reggae-tinged ska. Not my particular "thing," but they were solid musicians that had the growing crowd swaying.
Thulsa Doom from NYC hit the stage next. Their female singer was about four-foot-ten but her spiked-to-perfection mohawk put her at about five-six. Her and their lead guitar player owned the set, but the other members seemed to be phoning it in, and dressed like they would be more comfortable at a Dave Matthews show.  (Sorry, I only call 'em as I see 'em…)
Next up to bat were Germany's own Bad Co. Project. The members of this band used to be in punk/Oi! legends Oxymoron from the late 90's/early 2000's, and you could tell by their skills and stage presence how comfortable they have become working the slamming, crowd riding masses. Any band trying to top their set this evening was going to have a very hard time doing so, or so I thought…
Somewhat of a blur (after several shots and pints of Guiness and an unknown IPA of questionable quality) were the next two sets from Portland, Oregon's Defiance and legendary old school hardcore punks Negative Approach. They both kicked much ass, but as I started to sober up, (not wanting to miss a moment of X's set) I became distressed.
It was now past midnight, Negative Approach had been done with their set for 15 minutes and there was no sign of X. None of their merchandise was on display and I feared the worst, that it WAS too good to be true, to see them in such an intimate venue. Then I saw a roadie lug a guitar cabinet on stage, with a white "X" spray paint stenciled on the side. To say I felt like a kid on Christmas morning was beyond an understatement.
Risking grievous bodily harm and having my glasses smashed to bits, I secured myself on bass player John Doe's side of the stage, one leg on the floor, one on the stage. The crowd quickly grew behind me. I was ready…
X hit the stage and I thought I was dreaming, opening with "You're Phone's Off The Hook But You're Not" from their 1980 debut "Los Angeles," which sent the growing crowd into a frenzy. Lead singer Exene Cervenka (below) brought with her a 24pk of Heineken onto the stage, and handed a can to a teenage girl to my left who thrashed wildly throughout their set. I thought that was sweet and hopped maybe she would hand me one also. Not that I needed ANY more beer this night, but just to receive one from her would have been an honor indeed.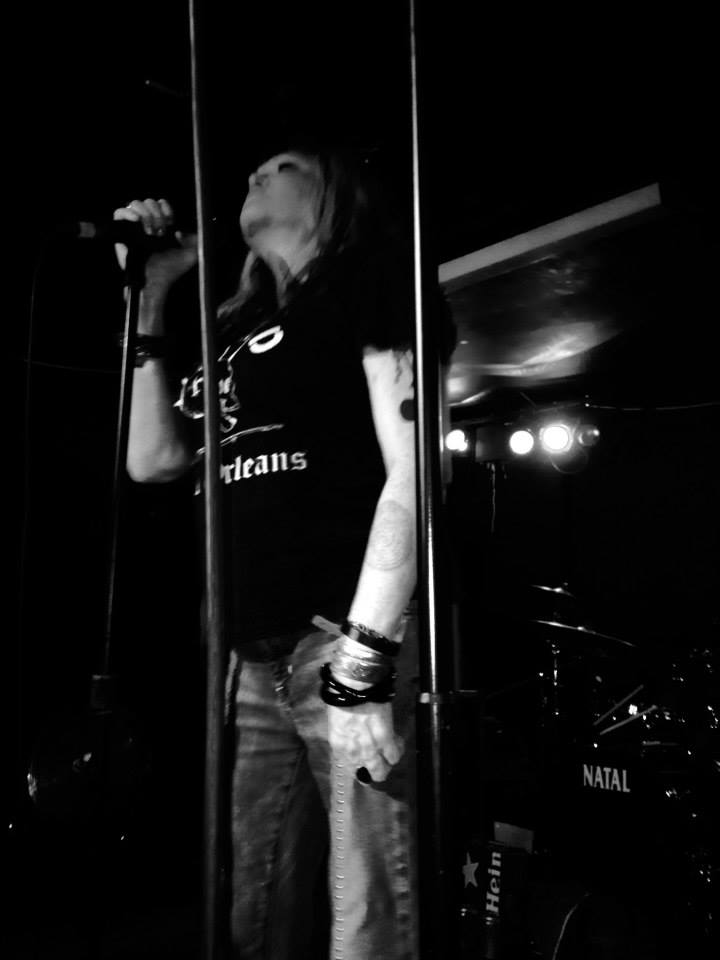 Their set was winding down, but the crowd wouldn't let up. A rather large fellow who had been taking photos with what looked like professional cameras for their entire set had inadvertently served as my human shield, taking the brunt of the slamming masses behind us. Then without warning, he put his camera on stage, bent his head over and vomited what I'm sure was a full night of alcohol indulgence.  Heineken Girl and I patted him on the back, asking him if he was okay — though I was more concerned if he had puked on my shoes, which thankfully got away unscathed.
After an hour-and-a-half, X left the stage as quick as they had arrived, leaving the crowd a content sweaty mess. Already hungover and with my ears severely ringing, I got home at 3am and probably still had a smile on my face.
Overall a great night of great bands, and seeing old friends and making new ones. The forty dollars for my advance ticket couldn't have been better spent.