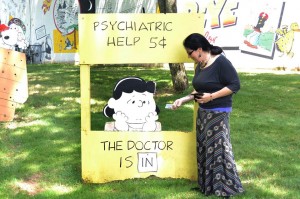 My friend Cie and I went to Marisol Velasco's home last weekend to take some pictures with her husband Rob, a photographer.  Marisol is a fellow blogger; before we met in real life at ComiCONN, I had often read her posts on The Unintentional Wino.  It was only natural, then, that the afternoon's conversation turned to how we approach blogging.  She and Rob have been working to add multimedia elements to The UnWino, as well as expanding its topics beyond just food and drink to event coverage, photography, and even the exploration of local haunted places. 
In some alternate universe, I was recording our whole kitchen chat to mine it for blog post gold.  But in this one, I doubled back around and emailed Marisol a few questions to recap what we talked about.
What made you decide to start blogging as The Unintentional Wino?
It actually started by accident after a trip wine tasting that went sour. We visited a winery on the CT Wine trail our experience was so bad that I decided to teach myself about wines and blog about it. We started to go out to dinners and review not only the wines and drinks but the foods that eventually turned into being invited to new restaurant locations. We then started a Halloween series and became "tombstone tourists," visiting haunted cemeteries throughout CT. To make a long story short it, morphed to everything it is today.
You were saying in the kitchen that you're posting much more on The UnWino blog than your holistic health site, MarisolVelasco.com – but that your natural health business is still going strong.  Can you tell me a little bit about Marvel Natural Health?
I am a certified Holistic Nutritional Consultant and Herbalist. My grandmother was a healer and I remember her sending various herbs and plants to cure everything from asthma to rashes. I guess she was my inspiration when my daughter suffered a pretty back skin breakout I decided to make her something to help clear her skin that turned into a bar of soap which then led to lotions and other organic and natural skin care products.
Back to The UnWino, how do you choose places and events to cover?
As a geek/nerd I love any events that have to do with comic cons, cartoons, and tech, so those events are an easy choice.   And I'm creepy in general (and also a medium), so that explains the ghost and we love to cover events and locations that are interesting, artistic and fun.
What experiences have you had through writing the blog that were really fun or unexpected?
One of the most unexpected things is that while interviewing individuals at some of these events, we've gotten to hear stories of people who while dressed as zombies or pirates are working on a bigger cause like autism and literacy. It gave me a whole new perspective about many of the people attending these events.
What about the trips to haunted places?  Has anything spooky happened on your visits? 
Yes.  While visiting a Stepney cemetery, we had major glitches happen with our equipment and videos. We've heard voices on some of our videos – and when we visited the morgue in the abandoned Letchworth Village in New York, we caught something that I originally thought was dust but after viewing the video, seemed more like orbs moving with a purpose.
Editor's note: Marisol gets to the morgue around 10:20.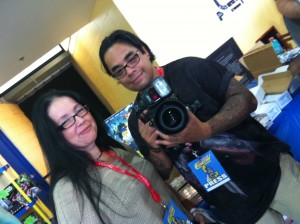 How does partnering with Rob add different facets to the blog?
Many people ask us how it's possible that we are always together and seem happy about it. Luckily I actually like my hubby and we have a ton of fun together.  We both bring different aspects; he's more logical while I'm more all over the place, so he's great at bringing me back to focus when I get sidetracked geeking out over a star or location. And with his background in photography and the media, he's a great help during our interviews and helping coach me on what to say or not say.  (Apparently I have no filter – oops.)
And that's a wrap!  Read all about Marisol and Rob's adventures at The Unintentional Wino, and find Marisol on Twitter at @Un_Wino.  Many of The UnWino articles also have corresponding posts with more pictures on Rob's photography site, RobertVelasco.com.