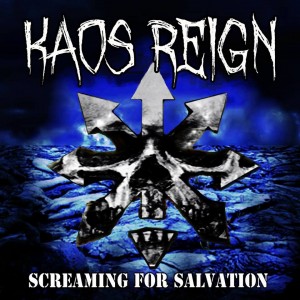 By Jonathan Hammer
Thrash, groove, and aggression – Norwalk, CT's Kaos Reign is a powerhouse for catchy riffs and pounding drums that fly the flag of the old, great name of "metal" high and with pride. Comprised of Bill Klopfer on guitar and vocals (Penitentary, Murder Castle) and Chris Anderson (Murder Castle, Arcane Malevolence), the band's 2014 release Embrace the Fire, 2014 gained both some local and international notoriety. Kaos Reign's second album, Screaming for Salvation, is due out January 29th; with a new release on the way, I interviewed the band to find out about their influences, progression, and take on the CT metal scene.
Kaos Reign is a bit of a "supergroup" for the Connecticut metal scene.  How did the group originally get formed? What was the main idea behind creating the band?
Bill Klopfer (Guitar/Vocals) – BK:  …Chris and I have been in many bands throughout the past 15 years…I told Chris I'd like to jam with him one day and maybe a year later he took me up on the offer.  I wrote two songs with the FL studio program. Then I wrote the early stages of "Wretched" and "Allegiance" [songs from the first release] and emailed them to him to see what he thought.  Next thing you know, we were jamming and Kaos Reign was formed. This was while I was jamming with Penitentary [Editor's note: misspelling is intentional] so I looked at it as a side project at the time and had no idea it was going to turn into my main band.
Chris Anderson  (Drums) – CA: I had just come out of Arcane Malevolence, a band that wrote really long, technical songs, so I was looking for something to try something a little bit different…I've always had good luck playing with people who write catchy riffs, and Bill is no exception. Pretty much when I heard the demo for "Wretched," I was like "Hell yeah, this is going to work."
You guys list your main influences as Slayer, Sepultura, and Pantera; the defining elements of these groups can be heard as influences in your music, but you still manage to put your own twist on the songs so they're Kaos Reign. What's the writing process like for the band?
BK: I started out as a vocalist and later picked up the guitar so I have the vocal approach. I look for rhythms that grab you and are memorable, so in the practice room I might come out with a riff and then Chris will add his drum parts and we'll continue to bounce ideas off each other….I never write lyrics first; sometimes it starts out with me writing riffs and the beginning stages on a computer, while other times we jam out in the room and by the end we polish everything up to the structure of the song. I prefer to make my lyrics personal rather than a concept in this band because it is my main outlet.
CA: I think we both realize that it's good to not be a carbon copy of your influences, which I think too many bands try to do. Also, we have great chemistry as far as writing. Bill is definitely not selfish when it comes to the creative process. Obviously the lyrical content is his baby, but when it comes to the songs, it's very much a team effort.
Some of the reviewer quotes on your band's profile are from international reviewers — how did those reviews come about, and how did the international praise affect the band, if at all?
CA: With metal being such an "international" genre, I think it's really cool that our music appeals to folks from other parts of the globe. I've personally had contact with people from other countries, and it really means a lot for someone who English might be their 3rd or 4th language to put the effort into contacting you because they like what you do so much.
As a band that has a guitarist/vocalist and a drummer, if one bassist alive or dead could join the band, who would it be and why, assuming money wasn't an issue?
BK:  We're meant to be a three piece and we're already working with a bass player who I think is going to be a great addition to the band, [but] this is a tough question. Off the top of my head, Steve DiGiorgio (Testament, Death) because I think he's a solid bass player with a unique sound and I think he'd add a spark to our music.
CA: Equally as hard a question to answer from a drumming perspective, heheh. I've always had pretty good luck with bass players, and a good one knows when to be flashy, but also knows when to lock in and hold it down. On one hand, I love shreddy guys like Alex Webster, Stanley Clarke, Jaco Pastorious, etc. But on the flipside, a dude like Donald "Duck" Dunn who knows how to compliment a song is equally important.
What can fans expect from Screaming for Salvation? How do you feel the material works in regards to Embrace the Fire, and what was new about working on this record compared to the last one?
BK:  When we started with Embrace the Fire, we weren't sure what direction we were going. We've progressed as a band so there is a tighter sound. The songs are just as catchy and I think written and recorded better. They are thrashier and more upbeat. I'd say on Screaming for Salvation, we knew what direction we wanted to go and we went with our gut and I'm really happy with the way it turned out; I think people are really going to like it. It's the album I always wanted to make.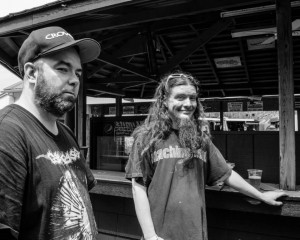 Having not only performed in Kaos Reign, what is your take of the Connecticut metal scene and the music scene in general? How do you feel Kaos Reign fits in and how has the scene changed over time?
BK: I couldn't be happier with the way the Connecticut scene is today. It's been growing, it's had ups and downs, and right now I think it's stronger than ever. There are a lot of places we call home such as Cherry Street Station in Wallingford and Cook's Café in Naugatuck, or Seaside Tavern in Stamford. You can expect a great show, great bands, and great hospitality. As for the music scene in general, I think metal will always be around because people connect with the aggression, technicality, and musicianship. I think Kaos Reign is a band that is hungry and I'm hoping it will be around a long time to come and people accept us for the music we create. We write songs that we would listen to ourselves. There are more promoters and blogs than there has been in a long time and I think the metal scene is alive and well.
CA: I agree. We've both been around long enough to have seen the peaks and valleys that every local scene goes through, and right now, Connecticut has something good going on for itself. In general, the whole scene is pretty supportive; I find it to be, anyway. I think everyone involved, from the bands to the bookers to the club owners, wants to put on the best show possible, not just have their particular act hog the spotlight. That's what separates metal from every other genre; we care about our craft.
—
Screaming for Salvation is now available for purchase on CDbaby.  Enjoy!
You can keep updated with Kaos Reign on Twitter and Instagram @kaosreignmetal, listen to their music on ReverbNation, and get a copy for yourself on Bandcamp. Also, tune in to Official FN Radio on Tuesday, 1/26, 8:00 pm, to hear Kaos Reign live on the air!
Find more of Angela Rose Vartuli's work at Photography by ANROVA.
And for more from Alternative Control, find us on Facebook, Twitter, Instagram, Soundcloud, and bandcamp.