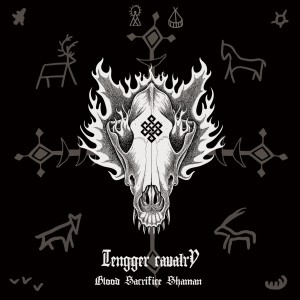 Deserved or not, folk metal has a less-than-serious reputation — a genre that calls to mind horns of mead and drunk guys do-si-do-ing in the Ensiferum pit.  But Tengger Cavalry, based in Mongolian folk music, eschews the ironic joviality of some of its European cousins.  Featuring throat singing and traditional string instruments along with drums, bass, and distorted guitar, the band's 2015 album Blood Sacrifice Shaman has gained much critical attention.  There is definitely a novelty factor, but Tengger Cavalry didn't sell out Carnegie Hall this past Christmas Eve by being the "hip new thing."
The morin khuur, a two-stringed, bowed instrument, is central to Tengger Cavalry's sound.  Band leader Nature Ganganbaigal also plays the Mongolian flute, Mongolian guitar (tovshuur) and other regional instruments.  He is joined by Robert McLaughlin on igil (yet another two-stringed, bowed instrument), Alex Abayev (Immortal, Cephalic Carnage) on bass, and Yuri Liak (Nightwish, Therion) on drums.  You have to listen for it, but Ganganbaigal's throat-singing is like one more instrument in the captivating blend of tones.
Some songs are heavy on the metal, excuse the pun; the guitar lines aren't life-changing, but they allow the traditional instruments to shine.  Entrancing moments in "Tengger Cavalry" followed by guttural chants sound like an invocation to the sky god after which the band takes its name.  And the title track could be played at a shamanic ritual, or at least be in the film soundtrack for one.  But other songs are pure folk, like "The Native," a quiet, distortion-free tune that divides the album in half.
If you like folk metal but are getting tired of the same old thing, have a listen to Blood Sacrifice Shaman.  As Tengger Cavalry is now based in New York City, you can also see the band semi-locally as well.  Check 'em out and let Alternative Control know what you think!
Upcoming Shows
1/27/16 at Saint Vitus in Brooklyn, NY
02/06/16 at Clash Bar in Clifton, NJ
03/09/16 at Joe's Pub in NYC
07/16/16 at Ragnard Rock Fest in Simandre-Sur-Siran, France
For more from Tengger Cavalry, find them on Facebook and the web.
And for more from Alternative Control, find us on Facebook, Twitter, Instagram, Soundcloud, and bandcamp.
Review copy provided by Adrenaline PR.  All opinions are our own.