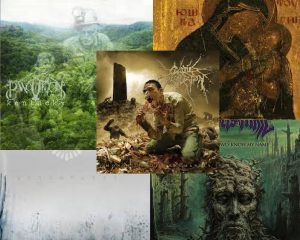 The 2010s were an interesting decade for music with the rise of YouTube sensations, the birth of streaming services, and the resurgence of albums on vinyl. In the metal world, there was also the shifting of subgenre popularity as metalcore evolved into djent, deathcore explored new grounds, and prog-metal was increasingly married to tech-death. Indeed, it seemed like every year brought something different to the metal scene, reshaping much of the community for better or for worse.
With just weeks before we welcome the 2020s, I present to you my picks for my top twenty favorite albums released between 2010 and 2019. There were many many other great releases by a wide range of bands that didn't make this list, such as The Black Dahlia Murder, Behemoth, and Gojira to name just a few. What made these albums special to me is that I found them to be unique in the genre, a milestone for the band, or had a spiritual connection with them.
As a rule to myself, only one album per band made the list, which certainly led to a number of difficult decisions. Check out the videos accompanying the top five and let us know what you think!
Subnote: since this is strictly for heavy music, my favorite album of the decade in general…was a tie between St. Vincent's self-titled album and We Got It From Here…Thank You 4 Your Service by A Tribe Called Quest.
20. After the Burial, 

In Dreams

2010

19. Glass Cloud, 

The Royal Thousand

2012

18. IKILLYA, 

Vae Victis

2014

17. The Dillinger Escape Plan, 

One of Us is the Killer

2013

16. Obscura, 

Omnivium

2011

15. Decrepit Birth, 

Polarity

2010

14. Beyond Creation, 

Earthborn Evolution

2014

13. Scale the Summit, 

The Migration

2013

12. Abyssal –

Denouement, 

2012

11. Rammstein –

Rammstein, 

2019

10. Carcass –

Surgical Steel, 

2013

9. Obsequiae –

The Palms of Sorrowed Kings, 

2019

8. Meshuggah –

The Violent Sleep of Reason,

2016

7. Baroness –

Gold & Grey,

2019

6. Mastodon –

Once More 'Round the Sun, 

2014
Batushka – Litourgiya, 2015
In all the years I have listened to black metal, this is perhaps the only album I can actually say made my blood run cold upon first hearing it. As the only full-length release of the original Batushka, the eight tracks present an uncanny, haunting atmosphere by combining the raw tone of first wave black metal with a more modern mix. The lyrics, based on Easter Orthodox liturgy and sung exclusively in Russian, take you on a journey to an alter surrounded by burning candles; but is it consecrated or blasphemous?
The nearly perfect trip into the spiritual unknown is perhaps the greatest shame amidst the current events surrounding the many forms of Batushka, both official and unofficial. That said, there is a golden rule in black metal that in order to stay "Trve Kvlt," you must release only one album and then break up, preferably with band members leaving on hostile terms. In this instance, one of Poland's greatest sensations certainly fit the bill.
Rivers of Nihil – Where Owls Know My Name, 2018
Some might say I'm a bit late to the Rivers of Nihil Party, but I think their music found me at just the right time. Between being in a place of depression and fiending for something that teetered between the proggy textures of BTBAM and the pummeling force of Decrepit Birth, Where Owls Known My Name was exactly what I needed.
While the band themselves stated recently that they don't want to be known as "that band with the saxophone," it is the inclusion of that instrument seldom seen in this style of metal that really ties the somber mood together. Even without the sax, tracks such as "A Home" conjure up feelings of isolation and reflection, sometimes positive, other times negative in nature. Every play through of the album is a new trip for the soul. Celebrating the beginning of their second decade of existence in 2020 and already winning accolades, I expect to see big things for this band in the coming years.
Panopticon – Kentucky 2012
I'll be honest, this album moved me to tears and still does years later. Best described as Americana Black Metal, the album named for the state the band calls home tells the story of American coal miners and their struggle to survive. Utilizing fiddles, banjos, and sound clips from the documentary "Harlan County USA," would you ever expect to hear blast beats give way to an old man telling you about his "first real political lesson about what happens when you take a position against the coal operators, against the capitalists?"
There is a very sad reality to the album that I was reminded of on a trip to central Pennsylvania this past summer, and again when visiting eastern New York in the autumn. The miles of empty hills and abandoned equipment reflected how so many people in America on both sides of the political spectrum have been forgotten as industries changed over the last forty years.
Take a trip out there or find a video on YouTube of life in those areas. Then try to keep dry eyes during the ending sample "Black Soot and Red Blood" where a legion of striking coal miners shout "Shame!" at their employers and strike breakers. Is it a historical recording or something on today's latest news broadcast? You be the judge.
Animals As Leaders – Weightless, 2011
Picking one AAL album for this list was like asking me which kid I love most. In fact, this decision was the reason I instilled my 'one album per band' rule. While The Joy of Motion was arguably the album that introduced the band to the masses, its criminally underrated predecessor was ultimately the one that influenced me the most as a musician.
Often forgotten even by the band because of its experimental nature, namely the use of synths and samples, Weightless in many ways laid down the foundation for the albums that came after it. Tosin Abasi's signature slap technique and hybrid picking took shape on "An Infinite Regression" while Javier Reyes' Latin textures revisited in Joy first surfaced on "Somnarium." We probably would never have had the absurdly catchy "Ectogenesis" off AAL's fourth album The Madness of Many if it were not for "Do Not Go Gently" and "Odessa" off this record. Even "Physical Education," the band's biggest song off Joy owes a lot to what was started on "Earth Departure" and "Isolated Incidents."
Two of the biggest complaints I hear about Weightless are the production quality and the absence of drummer extraordinaire Matt Gartska, who had not yet joined the band. Still, I argue that production for a band of this caliber was still in its infancy: who knew instrumental fusion would grow to be what it is today, and who knew back then how to best capture it? And while Gartska would become the final piece of the triforce (representing courage, perhaps for you Zelda fans), Animosity alumnus Navene Koperweis was a force to be reckoned with.
Commencing a ten year celebration tour for the self-titled debut album earlier this year, I sincerely hope AAL give this one as much love in 2021, or at least bring more of these tracks back to the stage.
Cattle Decapitation – Monolith of Inhumanity, 2012
This album is like a plastic bag placed over your head: you can't breathe, panic and fear take over, and just when you think this is the end, the last track ends and you're left gasping for air. There is no joy or light here, only a horrid reflection of the crimes humanity has committed through selfishness against each other and this planet.
Even before I started to fill in the rest of this list, I already knew without a doubt this would be my number one pick of the decade. While no one questioned the might of Cattle Decapitation after the release of The Harvest Floor, what makes this album so special is that almost no one saw it coming, not even the band judging by the 'making of' videos you can find on YouTube.
Taking elements from all the albums that came before it to new heights, Monolith is an endless barrage of gnashing, black metal influenced guitars, crushing breakdowns, and relentless drumming.
And then there are the vocals of Travis Ryan. From unnatural wheezes and gurgles in "Dead Set on Suicide" to the Chuck Schuldiner inspired rasps on "Your Disposal," there is very little indication that Ryan is human at all. Scarier still is that the man can replicate these sounds on stage right in front of you night after night, before returning to being your favorite neighbor who loves beer and metal. Maybe I just have a soft spot for him after sharing a bowl with him and the rest of the band after their set at The Heirloom Arts Theater (RIP) in Danbury.
As much as I enjoyed the two albums since Monolith, there is something so cosmically perfect in this record. It's as hopeless as it is merciless; fitting for something released the year my Mayan ancestors said the world was supposed to end.
For more from Alternative Control, find us on Facebook, Twitter, Instagram, Soundcloud, and bandcamp.