By Jeff Death
Hello everyone! Jeff Death here from Dread These Days. We have been busy as of late — most recently we played at Warcockapalooza 5 at Cherry Street Station in Wallingford this past weekend, but a few weeks ago we had the pleasure to play with Eternal Reach, Wisdom & War, and Apparition in Brockton, MA.  There I ran into Harry Daniells who plays bass for Eternal Reach and I saw his battle gear and there was no way I wasn't going to have this man's amazing battle vest not show up in this column. Here we go!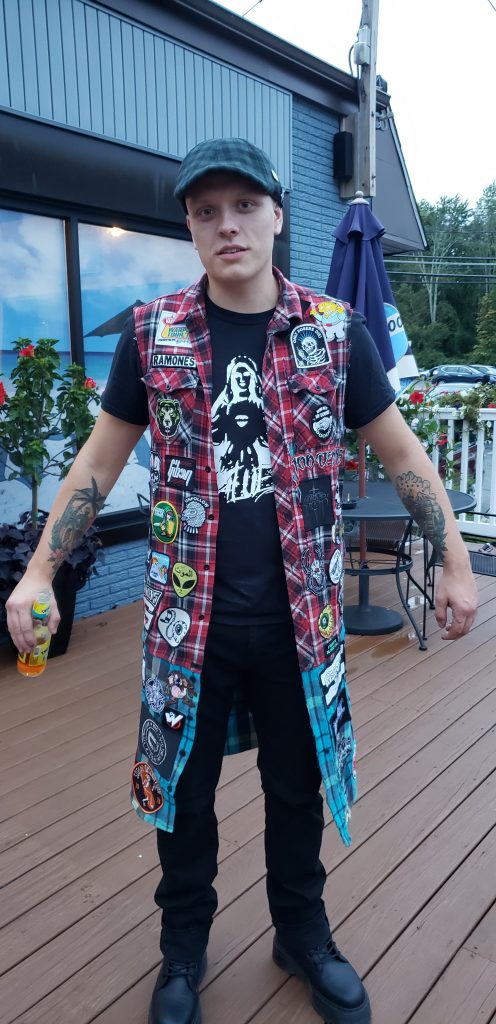 Jeff Death: Ok, so first things first, your vest is not a vest — it's a jacket turned into a duster lol and it's fucking awesome btw.  Please tell us how and why you extended it.
Harry Daniells: I had another flannel that the arms were too short on and I still had a lot of patches after I filled the vest, so I cut the bottom off of the one with short arms and sewed it on the bottom.
Jeff: What were your first few patches you put on it?
Harry: Man, I can't even remember. I think maybe The Acacia Strain one on the back. Or possibly the New England Institute Of Art one on the back. I know I got a lot of the Sketchy Tank and Mишka ones early. The NoFX, $wingin' Utter$, and Marshall Amplification ones were early too.
Jeff: You have a lot of patches bro, a lot, what are your favorites?
Harry: The Acacia Strain, Full Of Hell, and Less Than Jake are among my favorite bands, so those are up there. The Slashers and Monsters patches were from a Johnny Cupcakes box and I love their clothing. There's also one from Loon Mtn. I used to snowboard there a lot but unfortunately haven't been able to make it out in a few years.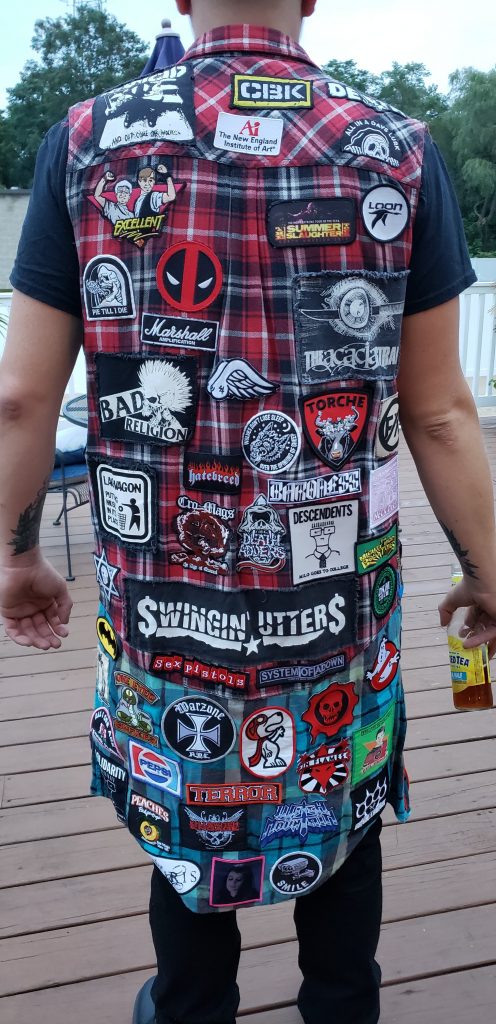 Jeff: You have SO many patches on there — it's incredible and it looks full, but we know it's never full lol.  Are you still adding to your battle gear?
Harry: Yeah, I'm thinking about removing some of the Sketchy Tank and Mишka ones since I have so many. I'd like to find a smaller $wingin' Utter$ one since it takes up so much room.
Jeff: Is there a wedding gown like train in the future of your gear? You have to admit that would make for an epic stage entry having a couple cute young girls holding the tail end as you walk up onto the stage.
Harry: Hahaha that would be a good idea. Especially with how much people will pay for wedding shit. Maybe that needs to be my next venture. People are always doing unique stuff with weddings now and trying to do something different.
Jeff: Are there any bands now that you listen to that you haven't gotten a patch for yet that you would want to adorn your jacket?
Harry: Yeah, too many to name. Some good friends of mine have a band called Values that I'd love to get a patch for. I told them I'd get a tattoo for their band. I just put a Descendents patch on and they're probably my favorite band. I don't have one for Trap Them or The Menzingers. H2O would be another nice one to get. Too many bands, not enough room on my vest.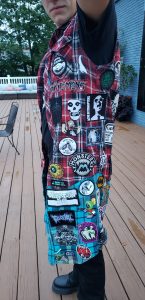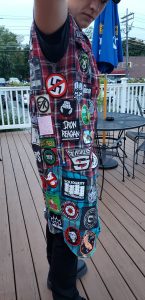 Jeff: What is your band up to now and how can people reading this check you guys out and follow what you guys are doing?
Harry: One of our guitarists just got back from military training, so we're hoping to enter the studio and start recording some of the material we've been working on. We have even more in the works that we won't be able to get ready for that. So those will be saved for later or that split we do with DTD. We're considering doing some acoustic versions of our two slower songs in between releases. We have some shows coming up at the end of November. I may also be starting a more punk rock sounding side projects. I'm considering doing a few acoustic solo songs when I find the time. So, I have some stuff going on haha.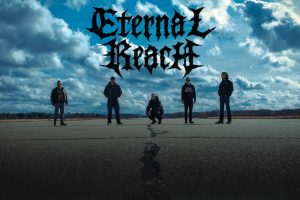 We hope you enjoyed this interview, check out Eternal Reach from Taunton, MA on all the social medias and do the same for my band Dread These Days! Search us both on FB, IG, Spotify and YouTube! And check out my personal art page @TheJeffDeath if you get a chance! Keep adding those patches and keep hitting us up!