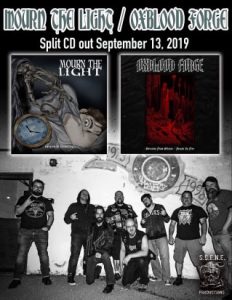 By Nikita Alekseyevich Khrenov
In this day of extreme brutality and blistering technicality in metal it's refreshing to see so many more bands take influence from the current crop of artists and infuse that with the classic styles that kickstarted the genre over 40 years ago. As they hit the road for their 2019 tour, Mourn the Light and Oxblood Forge are both rooted in hook-laden heavy metal and doom stylings of yesteryear but manage to keep the genres fresh by sprinkling in elements from all over the metal landscape.
Mourn the Light kicks off this split with "Lost All Control" a groove and hook filled track peppered with elements of Judas Priest, Life of Agony, Black Sabbath, and Down that keeps the listener on their toes. The following track keeps the momentum going but with a considerably more forceful driving feel setting the pace. Collaborating with Sean OrcAdams (Orcumentary, Virus of Ideals), the band morphs their single "Carry the Flame" into a piano-centered, haunting dirge which perfectly leads into the epic cover of Candlemass's "Bewitched," featuring a tastefully blistering solo by Joey Concepcion (The Absence, Sanctuary).
Oxblood Forge picks up right where Mourn the Light left off with the gloomy introduction riff of "Screams of Silence" before slamming on the gas pedal and pulling out the harmonized twin guitars and shrieking vocals that would make Rob Halford proud. "Forged in Fire" closes out the split on an adrenaline rush of killer riffage, a groovy driving bassline and a classic final line that would fit perfectly at the end of an Iron Maiden track.
Overall this split is very well crafted with two bands that encapsulate the humble beginnings of metal but keep these tried and true formulas fresh with influences from the vast spectrum of metal artists that have come forth and innovated the genre throughout it's over 4 decades' existence.
For more from Alternative Control, find us on Facebook, Twitter, Instagram, Soundcloud, and bandcamp.