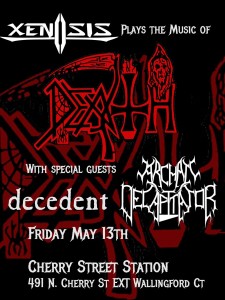 It was finally Friday, May 13; the night I've been anticipating for quite some time because one of Connecticut best metal bands, Xenosis, was about to perform a selection of Death songs in honor of Chuck Schulinder's birthday!  The excitement had been building since they first announced the show in March and you can sense that something special was about to happen.  People started making requests and trying to guess what songs they would cover, but Mark Lyon was able to keep it under wraps.  Tonight it would finally be revealed.  I do apologize in advance for my lack of technical music knowledge to do this show justice but I will do my best to describe the experience of this night.
I drove up to the beloved Cherry Street Station in Wallingford, Connecticut, which for a lot of metalheads is considered a home away from home.  You can always count on a welcoming smile from bartender Sarah and owner Dennis.  I couldn't wait for the evening that was about to unfold, which would feature cover songs from one of my favorite bands.  The band Death and its mastermind and creator Chuck Schuldiner have been well-respected amongst the metal community since its inception in the early 1980s.  Chuck truly understood the human condition and translated it into intelligent lyrics, contesting the low-brow reputation metal often gets.  He was able to express human suffering and a variety of strong emotions through his beautiful and hard-hitting music.  Chuck was refreshingly open and honest and loved life in spite of the band's name.  May 13 was to be a celebration of his existence and his musical and personal contributions to the metal community.  I've never seen so many Death shirts in one place and I've never seen Cherry Street this packed!
Decedent, a Connecticut death metal band opened the show.  They played tight and featured elements of doom and speed.  They jumped right in and played Death's "Together as One" off the Human album while the crowd went insane.  Great vocals and musicianship; keep an eye on this band, which features members of Nightbitch and One Master.
Tony Espinoza– Vocals
Kevin Schremmer– Guitar
Ryan Adams – Guitar
Mike Polce – Bass
Dave Parmelee- Drums
Next up was Suffield, Connecticut's death metal band Archaic Decapitator who flew their drummer in from Florida for this special show and it was easy to understand why.  Archaic brought energy to the stage that moved everyone in the room.  Vocalist Kyle, commanded the stage and audience with boundless energy and powerful growls while never missing a beat.  Yegor is an outstanding guitarist and song writer who played with masterful skill and intense passion.   It always feels like winter and I'm watching a Nordic band play when I see these guys.   They treated us to a performance of their new EP "Light of a Different Sun" in its entirety, which will be available on June 7. I highly recommend picking this album up as their music is beautiful, brutal, and exemplifies technical skill and extraordinary song writing abilities.  Archaic simply leveled Cherry Street and now it was time for Xenosis to pick up the pieces!
Kyle Quintin – Vocals
Yegor Savonin – Lead Guitar
Will Jara – Rhythm Guitar
Craig Breitsprecher – Bass, Backing Vocals
Anthony Douaihy – Drums
Xenosis, a progressive death metal band, took the stage and performed a set of original music.  Besides the love everyone has for guitarist Mark Lyon in the metal scene, there's a reason Cherry Street was packed.  These guys are extremely talented in their craft, they are heavy as fuck and tight as hell.  They brought out crowd favorite R&B artist Mr. Council to do a guest vocal appearance.
Sal Bova – Vocals
Mark Lyon – Guitar
Kenny Bullard – Guitar
Dave Legenhausen – Bass
Gary Marotta – Drums
And now, the moment we have all been waiting for; Xenosis Plays the Music of Death.  Erik Tetreault (AKA Herman Von Roll of Nasty Disaster) took the stage and observed that somehow Motley Crue is still alive yet Chuck is dead!  The band ripped into Scream Bloody Gore's "Zombie Ritual" and Leprosy's "Pull the Plug."  These songs were executed flawlessly and the crowd absolutely loved it.  Erik revved everyone up and I even heard someone say he looked like Chuck.
Next up was Tony Espinoza (Decedent) who sang Spiritual Healing's "Killing Spree" and Human's "Lack of Comprehension."   The new Xenosis singer Sal Bova sang Individual Thought Pattern's "Trapped in a Corner,"  a song in which Kenny Bullard impressively nailed Andy LaRocque's solo.  The crowd was going nuts and I, who usually stand on the sidelines so I don't get punched in the head, was front and center, not giving a fuck.
The final two songs were sung/screamed by Will Checchi (Rise to Burn) who was the perfect fit for this show.  He did Chuck justice that night.  Will performed a couple of songs off my favorite albums, Symbolic's "1,000 Eyes" and The Sound of Perseverance's "Bite the Pain."  His vocal delivery and stage energy was the perfect way to end the show and bring it home.
The vocalist changes were akin to the fact that Death had different members for each album.  It's a testament to the music being bigger than any one individual.  This show was not simply Xenosis covering Death songs.  It was a bunch of passionate metalheads uniting for the love of metal and its' community.  This music transcends death and celebrates a man who was original, uncompromising and sought the truth; something we can all relate to and aspire to embody.  Xenosis played these songs perfectly and the crowd response was proof of that.
I had a blast and would like to thank Mark for putting on this show and for the bands that made this a memorable night and tribute.  This show was also dedicated to the memories of Xenosis bassist Mike Schuplicovitch and Death bassist Scott Clendenin.
For more from Alternative Control, find us on Facebook, Twitter, Instagram, Soundcloud, and bandcamp.