Speculation and debate about the death of rock 'n' roll has been rife for decades now. Whenever we feel certain that it is time to close the lid on the casket, another set of bands arrives to show us that rock 'n' roll his in fact very much alive.
New York City's X-Ray Love are undoubtedly and unashamedly a rock 'n' roll band. They have just released their first single, "Sha La Love," and will be releasing their second, "Debbie," on August 21st, 2020. They don't rewrite the rulebook, and they probably don't want to, but they do radiate conviction and commitment to rock 'n' roll. The music grooves along with a tight-but-loose swagger recalling the Stones. The band also has a grasp of dynamics; they understand when and how to pull the energy back so that the choruses hit hard every time.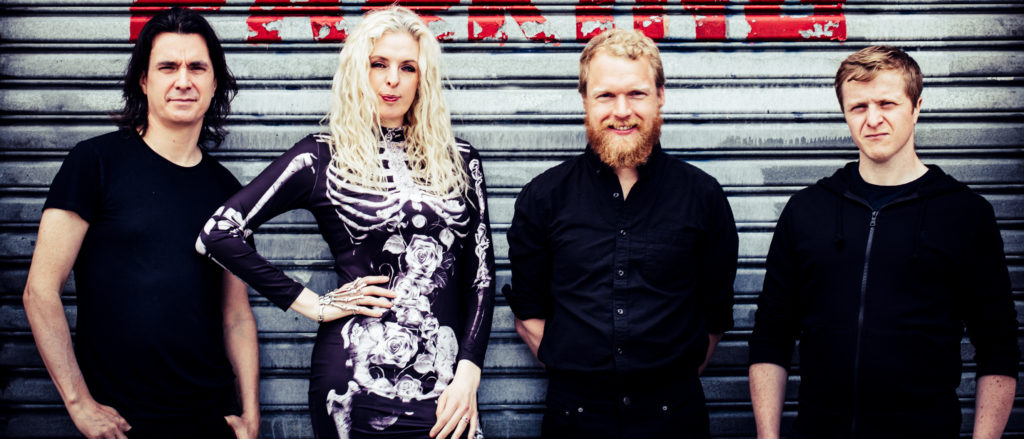 There are also some idiosyncrasies here. For example, Barry's bass playing weaves around the chords in an unusual way, dexterous and melodic but never forsaking the rhythmic drive. The arrangements are also infused with a certain post-punk kookiness which pulls the familiar structures out of the ordinary.
The focal point, and the lynchpin that holds everything together, is frontwoman, guitar player, and songwriter Ella. Confident, commanding, and expressive, her voice is reminiscent of Patti Smith's — drawling yet note-perfect, relaxed but with an air of aggression. Importantly, she sounds like she means what she sings; like she really feels every emotion as she performs.
The songs themselves are strong. "Sha La Love" takes us to its classic singalong chorus within 18 seconds, but holds our attention for nearly five minutes of joyous foot-tapping, including an unexpected swing-time middle 8 section. "Debbie," a more menacing and brooding affair recalling the Velvet Underground, features another catchy chorus and plenty of head-noddingly satisfying riffs.
It's all very promising stuff, and I bet it will work fantastically in a live setting.
X-Ray Love show us that there is still life in rock 'n' roll. If that's your thing, look out for their upcoming releases.
"Sha La Love" is available now on streaming platforms and from https://www.xraylove.net/. "Debbie" will be released on August 21st, 2020, and a full album release is also being planned.
For more from Alternative Control, find us on Facebook, Twitter, Instagram, Soundcloud, and bandcamp. Plus, follow our 2020 coverage playlist on Spotify!
Enjoying our content? Support the site on Ko-fi and Patreon! A little bird told me the "download code" reward tiers are really awesome…