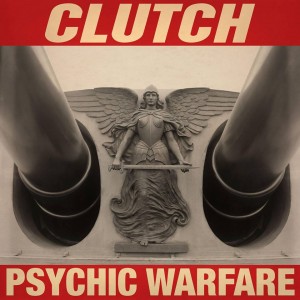 Once again, Clutch reminds people why they are one of the best rock bands on the planet. Psychic Warfare is another corker of an album from a band that has released many corkers over the course of their career.
Psychic Warfare finds the band in full-on rock mode, continuing down the path they set with Earth Rocker. This means the album is full of tight, uptempo and exciting rock tunes with the occasional bluesy stomp thrown in, punctuated by vocalist Neil Fallon's tales of sleeper agents, lotharios who get on the wrong sides of jealous husbands, lovers of witchy women and even ancient Greek monsters, among other subjects.
The album begins with the one-two punch of "X-Ray Visions" and "Firebirds," which set the tone for the rest of the album. Both these songs are high energy rock tunes, and many of the songs on the rest of the album follow suit. For example, "Noble Savage" is an under-three minute burner of a song where Fallon declares his love for rock n roll. In a way, this album is a love letter to rock music in all its glory.
"A Quick Death In Texas" is amped-up ZZ-Top and even references Billy Gibbons in the lyrics, while "Sucker For The Witch" declares the singer's love for the witchy women of the world, and throws in a reference to a "friend of Stevie Nicks."  Both these clever nods give the songs a sense of playfulness.
But it's not all high octane rock action. They take a few detours with the bluesy balladry of "Our Lady Of Electric Light" and closer "Son Of Virginia," which are slow-burn wonders.
Psychic Warfare revels in the glory of rock n roll. People who think rock is dead should give it a listen; they'll see that rock is alive, well, and thriving in the hands of the right people. It's easily one of the best loud rock albums this year.
But you should expect nothing less from this band.
Clutch will be at Toad's Place in New Haven this Sunday, 10/11/2015, joined by Corrosion of Conformity and The Shrine.  Alternative Control will see you there!
For more from the blog, like us on Facebook or follow on Twitter and Instagram at @AltCtrlCT!