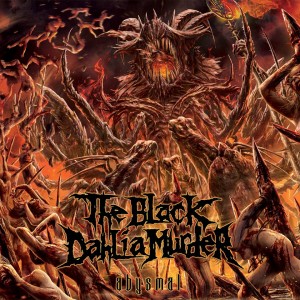 With new releases from Between the Buried and Me and Cattle Decapitation, 2015 has been quite a stellar year for Metal Blade Records. As the final months of the year roll around, The Black Dahlia Murder returns to the frontline with Abysmal to round out the impressive Metal Blade catalog.
Beginning with 2011's opus, Ritual, fans may have noticed a steady musical change within the Black Dahlia compound. Having spent years developing an unmistakable sound, the last few years have seen a departure from the At the Gates/Carcass crossover riffs of the band's first four albums in favor of a purer death metal.
For those fearing the days of "I Will Return," and "What A Horrible Night to Have A Curse" are gone forever, rest assured, the new chapter in the book of Black Dahlia is stronger and fiercer than ever. And while some changes stand out more than others, the infectious melodies found in new cuts such as "Receipt," and "Vlad, Son of the Dragon" are sure to join the pantheon of classic Black Dahlia songs.
The first album following a significant lineup change can be a challenge for any band, and 2013's Everblack was no exception following the addition of drummer Alan Cassidy and former Despised Icon bassist Max Lavelle. With two years of bonding to their name, the band has now had time to take the seeds planted last album cycle and cultivate them into something stronger.
The result has seen a more expanded palette of influences, such as the Dissection-esque riffs of the title track, and vocal/guitar harmonies of "The Fog," which bring a nearly King Diamond atmosphere to the song. Spine shattering tracks such as "Threat Level No. 3," and "Asylum" walk a path not unlike newer Cattle Decapitation offerings without sounding like one band is copying the other.
When the grave is filled (or emptied?) and goodbyes are bid to younger days of Unhallowed, fans can rejoice that a new era of The Black Dahlia Murder is upon us. Even if takes some time to grow on listeners and following in the footsteps of six incredible albums, it may be safe to say that Abysmal may be the Michigan quintet's finest offering to date.
When the punishment is over and the tour through the abyss comes to an end, just remember: it's only a record.
You're probably capable of finding The Black Dahlia Murder on the internet.  For more from Alternative Control, like us on Facebook or follow on Twitter and Instagram at @AltCtrlCT!