Alternative Control premiered the single "Colonial" from Baton Rouge post-metal outfit Ambassador this summer. They've since released their sophomore album Care Vale; the band took some time to talk with us about their history and the making of the album. Enjoy!
Alternative Control: You guys had an album come out in mid-September, Care Vale. What does "care vale" mean? Can you tell me about the writing process for the album? How has it grown from your previous work?
Care Vale: The writing process for the first album was spaced out over a couple of years and through a few lineup shifts. Dustin's guitar was written and recorded after we initially entered the studio as a sort of late addition. It certainly enhanced the album a great deal in the end, but the final product wasn't as cohesive and organic as Care Vale. Care Vale is a showcase of us writing completely as a unit, with a bit of animosity toward the weaknesses of the first album from a performance standpoint. We wanted to be heavier, more atmospheric, and straight forward.
Care Vale is loosely translated as 'Sorrow Valley.' Care- in late Old English is defined as "concern, anxiety caused by apprehension of evil or the weight of many burdens," and Vale- is a shortened form of valley. It represents a dark and vast place where one can find belonging and contentment in self-loathing. The album deals lyrically with the failures and burdens of society and the outer and inner forces that corrupt the spirit.
AC: You also mention that it was tracked in just two days. How did you prepare for the recording process in order to get so much done in such a short amount of time?
CV: When we say two days, we are referring to recording the instruments in a live format, all together in the same room within arm's reach. The goal was to achieve a less polished, simple and tight album that reflected the vibe that we have when playing together. The last album was recording in the typical 'one at a time' format. This time, we wrote completely and within our abilities, rehearsed until we could perform the song sufficiently in one take, then entered the studio. The vocals took a few months to write and record separately. Bass writing and playing took Gabe's priority initially. We took more time to focus on lyrics and melodies, and get the right takes.
AC: Your press release talks about lineup shifts. Tell me about the current lineup and how you guys work together as a group.
CV: Gabe began playing bass and singing once the writing process began for Care Vale. We had a vision of what role the bass should play in our sound, which was a dirtier tone and a more 'locked into the kick drum' kind of style that lets the guitars handle the complexity. With Gabe playing bass, it streamlined the writing process some, made communicating ideas a bit easier, and the rhythm and timing of the vocals benefitted from the cohesion and simplicity offered by singing and playing at the same time. The vocals sit within the music more on Care Vale rather than float on top.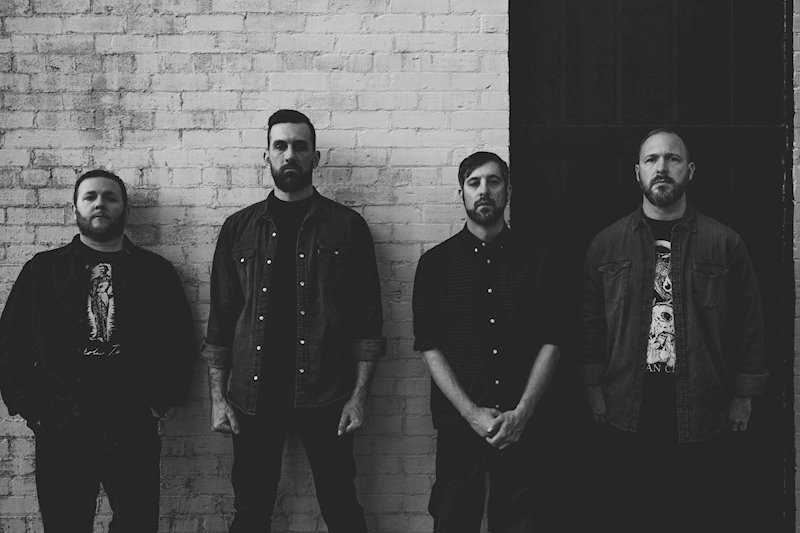 AC: What are some of your inspirations, musical and otherwise?
CV: We all love really heavy and emotional music from any genre. We have a philosophy that distortion doesn't create 'heavy.' It's more about the attitude and emotion. That feeling that hits you deep in the chest whether it's from low frequencies, rich emotion, or certain note arrangements. We get our inspiration from everything between post-metal to synth pop. Some of our favorite bands are Deftones, Russian Circles, Tool, Brutus, Pink Floyd, Torche, Isis, Interpol, Pelican, Radiohead, The Midnight, Depeche Mode, Arcade Fire, and The Cure. The list goes on from sludgy doom to folk and blues.
AC: Louisiana — and New Orleans in particular — is known for having a rich musical history. But what about your hometown, Baton Rouge? What makes up its musical heritage?
CV: Baton Rouge was a place that every touring blues and rock musician stopped in during most of the 20th century. You have to cross the Mississippi River Bridge on Interstate 10 on your way to most places in the south. Many great musicians called Baton Rouge home or at least played here frequently. Some names that come to mind are Randy Jackson, Johnny Rivers, Slim Harpo, Chris Thomas King, Lightnin' Slim, Better Than Ezra, Thou, and Boozie. Somehow along the way, cover bands took over and there became a lack of good venues for original bands. Music is still a big part of our culture as it is anywhere in Louisiana. That has started to change, and we'll see how the pandemic affects everything in the long run. I feel like Baton Rouge holds its own.
AC: How has the pandemic affected the music scene and day-to-day life in your area?
CV: Well, in South Louisiana, we are really into socializing, so let's just say that it has been a challenge to get people to adhere to best practices. We hug a lot, dance, and party, so our case numbers have been somewhat high. Not terribly restrictive as of late, but the music venues or more specifically, the bars, are currently closed and live music is barely allowed. There are mask requirements and limited restaurant seating but we are doing the best that we can considering.
AC: What does Ambassador have planned after Care Vale's release ?
CV: Just trying to do as much online press and promotion as possible. Unfortunately, there are no immediate plans to tour or even play shows due to the pandemic. Too many unknowns for now. We are still jamming though, and hope to get going with live stuff as soon as possible. Maybe some live stream stuff on the horizon and some small house parties. We will probably begin writing the next album very soon. It just makes sense to spend time moving forward rather than rehearsing for shows that don't necessarily exist.
---
For more from Alternative Control, find us on Facebook, Twitter, Instagram, Soundcloud, and bandcamp. Plus, follow our 2020 coverage playlist on Spotify!
Enjoying our content? Support the site on Ko-fi and Patreon!