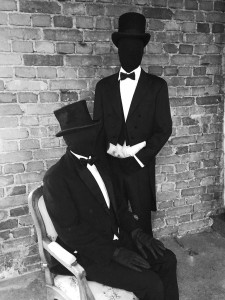 When I picture Scandinavia, it's all fjords, At the Gates, and the Northern Lights.  "Swamp" and "blues" are probably the last words that come to mind.  But it seems that my preconceived notions are getting challenged a lot these days — most recently by Stockholm duo The Lost Poets.  These Swedes in top hats have a predilection for American blues and rock that translates into sparse, unexpected dirges on their recent EP Insubordia.
"Die To Live" was the most obvious nod to blues music that I heard on the album.  Thousands of miles and decades away from the cotton fields that spawned country and Delta blues, "Die to Live" had the same eerie sadness that's found on ancient recordings of Geeshie Wiley and the like.
This isn't to say that The Lost Poets eschew modernity — the distorted guitars and vocals are very 21st century, and the unexpected builds lend a rock n roll feel to the music.  "Lying Down" is one track that starts off with a very grungy feel and has many dynamic changes throughout:
When Alternative Control reviews these international bands, it begs the question, "Why should our readers care?"  Well… We might be introducing you to something you end up really enjoying, that you NEVER would have heard of otherwise.  And secondly, you never know who will be taking a trip to the states — The Lost Poets' fellow Scandinavians Barren Womb will be touring the East Coast in March and April with Connecticut's very own Grizzlor!
This post sponsored by Independent Media Promotions.  All opinions are our own.