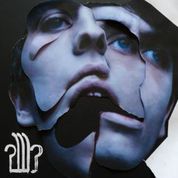 If there's three things that piss me off, it's misspelled words, bad grammar, and electronic music.  But somehow, this guy goste's new EP Eugene ended up in the inbox and I gave it a listen.
Eugene is goste's third EP.  He uses a mix of samples and real instrumental tracks, and also does his own singing — which is apparently a big deal in the electronica world.  (goste, whose real name is Owen Ross, did graduate from Berkely School of Music as a guitarist.)  His voice is pleasant enough, as are the ethereal, mid-tempo songs.  Reviewers have called his style "raw and organic" and said that it would "seamlessly transfer into an offbeat performance, art space, or any venue where people come to really listen to music."
If any of you metalheads reading this blog have a secret soft spot for electronic music, check out the single, "Loadedlikeapistol."
Did that track load your pistol?  Then you can see goste on the following dates:
1/30 @ Rockwood Music Hall Stage 1 (New York, NY)
2/7 @ Bar Matchless (Brooklyn, NY)
2/22 @Palisades (Brooklyn, NY) — performing with a full band, see video below!
This post was sponsored by Independent Media Promotions.  All opinions are our own.