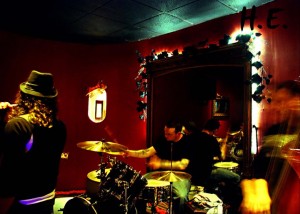 Walking into The Fez (227 Summer Street, Stamford) is like entering an alternate reality, perhaps the opium den scene from an old movie about "the Orient." Mirrors and black roses adorn the blood-red walls, and a silver hookah sits in a corner.  Curtains, candelabras, and burnished lanterns give the Middle Eastern restaurant a warm, shadowy feel that's perfect for enjoying good music, good food, and a good glass of wine.
I'm usually drawn to The Fez on Wednesdays for Singer-Songwriter Acoustic Open Mic night — and for the $2 Miller High Lifes.  Anthony Quinn Carpanzano has been hosting the weekly event since May 2010.  "The first night, it was just me playing and like five people showed up," he said.
The Wednesday crowd has grown a lot since then — devoted regulars mingle with open-mic virgins, weekend blues warriors from the 'burbs, and those who just came for the food and happened to stumble upon the music.  Quinn's band Cletus and His Tings opens up the evening with their spacey, hypnotic rock, and the rest of the night is up to chance. There are a lot of solo acoustic guitarists and the occasional rapper, but one of my favorite performances was seeing Heather Clegg play "You Are My Sunshine" on the ukulele.  I almost cried into my High Life — really.
Singer-Songwriter Night isn't the only event worth checking out, though.  Tuesdays are "Bring Your Own Vinyl" and weekends feature bands that will tear the roof off.  Arcane Malevolence bassist Johnny Pluckman visited The Fez on a recent Thursday to see funk outfit Pimpinella.  (Weekends start on Thursdays, right?)  "That was the first time I'd ever been there, and it was packed," he said.  "There was this crazy light show… It was very random that I went [to the Fez], but I'd definitely go again."
Well, there you have it.  If Johnny Pluckman would definitely go again, you should at least give it a try.  And let me know how the food is, because I usually walk in there with enough money for two beers and the tip…  Seriously though, cuisine at The Fez comes highly recommended by many, including OmNomCT food bloggers Dan and Kristien Del Ferraro. "The Fez is one of our favorite restaurants in Stamford. The food is unique, rich, and flavorful," Dan told Alternative Control.  "The service has always been very friendly, and the eclectic drink menu means you can try something new every time you go."   Read their reviews here and here, and visit The Fez soon!
Upcoming Shows and Events

11/19: Dave Dana (jazz)
11/20: Anthony Realbuto and the Melons (jazz)
11/22: BYO-Vinyl Night
11/23: Mad Things w/ Cletus and The Tings
11/25: The Grind (80s rock/pop)
11/26: Cletus and The Tings w/ Pink Missile
11/27: Tony Trug and Bobby Realbuto (blues)
11/29: BYO-Vinyl Night
11/30: Singer-Songwriter Acoustic Open Mic