Down here in Stamford, there are metal shows… But the audience is the band members' twelve friends and the beers all cost six dollars.  Okay, five for a PBR.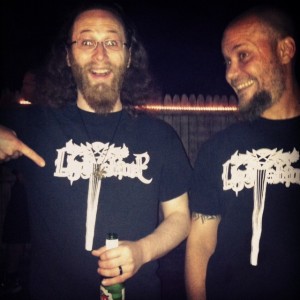 To find a really brutal metal show in Connecticut, though – the kind where there's a hundred people and some dude is fisting a blow-up sheep – you have to head up Route 8 or north on the Merritt. My Gold Coast companions and I had the pleasure of seeing two such shows recently: "Lightsbane and Friends" at Cook's Café in Naugatuck and the Priapism CD release party at Wallingford's infamous Cherry Street Station.
Cook's décor? It's a bar. If you can find the door, you're good. When we went there on June 16th, I was pleased to order Hooker drafts for $4 each. A glance at the menu reveals regular bar food. No goat cheese and truffle oil nachos. No manchego. (What is that??) Bar food.
And the music was great. I saw two bands I'd never seen before, Maniac and Murdercastle. Maniac made me wonder where my career path took a wrong turn; the beardless high school students thrashed like Megadeth and all I could think was, "It's my job yell at kids like this." So good for you, Maniac — keep thrashing. But you better do your summer reading or I'll get your mother on the phone so fast… Aaaaaaah!!! My life!!!
Murdercastle, "Metal" Bill Klopfer's latest project, put on a great performance as well. They were short a bassist for this show, but still had a full sound. I especially liked the catchy stoner metal riffs in songs like "Rope Trick" and "Heretic's Fork."
No Remission was up next and Lightsbane closed out the night, but we spend enough time blowing them on the internet. Haven't heard them yet? You should get on that.
Last night, the Stamford crew headed up to Cherry Street Station – and this is where we saw the sheep. Cherry Street reminds me a lot of Popeye's in New York, except there aren't these dumb posts in front of the stage and the floor isn't caving in. As far as beers, $3 Narragansett tallboys were the best deal and they had wide selection of bottles and drafts.
But anyhow, joint was packed for Priapism's CD release party. It was also "Shred-Master/Masturbating" Pat Seymour's last night to get heckled as Eyes of the Dead's prospective new guitarist; his task was to have people sign a blow-up sheep doll with a sharpie that was conveniently wedged into the sheep's asshole. There might have been some sheep-salad-tossing as well, and there was definitely three solid minutes of sheep-fisting…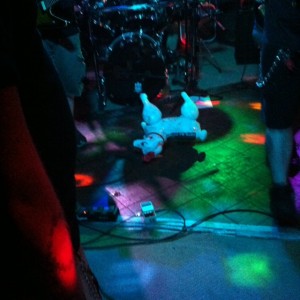 With all the blow-up doll abuse, it was a wonder that anyone remembered to play music. We caught When Waters Rise, Sinners, Eyes of the Dead, and a little of Priapism. Yep, we drove to Wallingford to give our money to the bands and the bar, but we did leave before the end of the show.  Yes, we know other people live in our area and they stay for the whole show because they support the scene more than us, blah blah.  Take the marker out of the sheep's ass and put a demerit in your scene notebook.
But I digress…
All the bands we saw were legit; I particularly enjoyed EOTD's metal onslaught, except for when I almost got moshed on by Herman Von Roll and TJ Gramolini. (The pedicure, guys, the pedicure! I had to find a different spot to stand for that song…)
And Sheep Guy Pat did a commendable job on guitar in spite of breaking a string and getting berated for it.  I guess that's part of being a metal dude, thank God I don't have that plumbing. I'm also glad that my husband's friends don't show me their cell phone poop pictures. Do you think my husband has pictures of poop on his cell phone? I sure hope not, but I don't go through his pictures either. Some things are better left a mystery…
What's the moral of the story here? There is a place where people care about the music and sell beer on the cheap. It's called central Connecticut. Stamford folks may have to drive an hour to get there and play "not-it" for who's driving back, but it's worth it to observe a scene with an audience.
Maybe we could get something like that going here in Stamford… Or we could just go back to our microbrews and goat cheese nachos, and have a shitty scene where two of the three-and-a-half metal bands book shows on the same night a mile apart and then defriend you on Facebook because you didn't go to the right one.
Looks like we're driving to Cherry Street.