I can say I have something in common with Rob Halford and Matt Barlow, aside from all that leather and a shaved head. I have yet to be replaced by Tim "Ripper" Owens… What we share is the cherished chance to return to Metal, after an absence that left life lacking. Nothing makes you appreciate the Metal scene like leaving for a number of years. There's such a promising and diverse wealth of artists, working together to cross promote and conquer Connecticut, there's Alternative Control… It's an incredibly optimistic environment for someone's first foray into original music in five years.
In an effort to reacquaint myself with what's going on, I've done what I could to support everyone I can. You'd think that it would be difficult to support the CT scene from NYC, especially trekking it out to Stamford to practice once or twice a week, making additional trips to visit family and friends, being a broke-ass waiter/artist. It's been an unexpected boon to have, on average, a show a week where some CT band I'm acquainted with comes here to burn some bar or venue down. It would be my abundant pleasure to detail a few recent ones, and share more as they occur.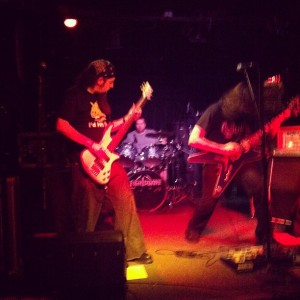 On Friday June 8th, No Remission brought their 3-man army to Bar East on the Upper East Side. This joint is already rife with Connecticut connections from my past. No fewer than three of my friends and classmates from WCSU have worked there. My first band in NYC played there in 2007, and my roommate's band more recently. It was a familiar venue, but I hadn't had great experiences there. Shows seemed, in the past, to be thrown together with whatever musicians were lying around. A young lady playing folk music, followed by a 6-piece thrash band, followed by pop-punk to make Green Day proud? This evening, however, shattered expectations. Not only did the bands playing before and after No Remission impress (shout-out to HUNG), but NR did CT proud. Everything was especially on-point. I never saw them as a 4-piece, but lacking the second guitar did nothing to take away from their performance, all three individuals more-than-capably producing a full, rich, melodic sound. Johnny Pluckman, their representative Nutmeg Stater, looked at home playing enough bass to make up for the absence. As impressive was the only guitarist, Will Checchi, executing spot-on vocals while playing for two. It was a phenomenal show and wowed a fairly-packed bar full of heavyset guys in black t-shirts with long (if thinning) hair.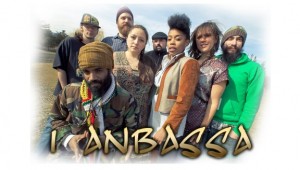 The following Friday, June 15th, provided an unexpected opportunity to see one of my very favorite live bands, when CT reggae juggernaut I ANBASSA went deeper into Brooklyn than anyone should ever have to go. The venue, Goodbye Blue Monday, looks like "Applebee's on crack" (Grady, of Assorted Animals). There's more shit on the walls than there is at that gas station bathroom you couldn't bring yourself to use. It's a cramped, hipster-laden bar that has surprisingly good sound and a charming, if excessive, aesthetic. As always, I ANBASSA tore it down. The energy and execution from all of the musicians washed over the throng of skinny-jeans & torn-t-shirt-wearing nerds. N'Gosi never fails as one of the most charismatic frontmen to hold a mic. The Empresses provided invaluable support with gorgeous 3-part harmonies. Even their sound check was beautiful, truth be told. The rhythm section and guitar were polished, professional, and powerful. Regretfully the keyboardist couldn't attend, but the band was stellar despite. The 'band' that followed, two gentlemen breaking ceramic and employing an effects board with easily more buttons and knobs than the venue's soundboard, were left gushing that they were proud to be sharing a stage with a reggae band for the first time. Even the most isolated and pretentious were on their feet by the end of the set.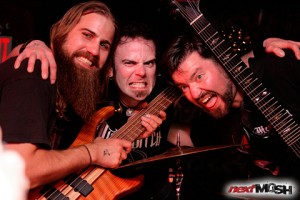 Lastly for this communication, I was fortunate enough to see Nightbitch's first NYC performance on Monday June 18th. They demolished the ironically-named Lit Lounge, which clearly shuns lightbulbs, down in the East Village. Another 3-piece metal effort, with drums and vocals handily performed by Chris Taylor, they clearly detailed what would happen if Black Sabbath, Deep Purple, and Danzig had a baby. And poured a fifth of whiskey down its throat. Old as old-school gets, they proudly purvey sleaze and drip evil from every pore not sweating booze. Slow, droning riffs lead into blistering solos. The bass, thick and punching, more than supports; every note from every musician carries meaning. And by meaning, I mean songs about the power of evil forcing women to disrobe, and a tune recalling werewolves getting it on. I was again impressed by how much music three individuals could create together, and how full it sounded, especially scene-veteran Ryan Adams' guitar work. Check them out if you love Metal.
The best part about all of this? These venues were packed. Here, in the village, on a Monday night, a Metal show crammed what appeared to be a hip-hop themed night spot. There, the insurmountable effort of getting anywhere else from the Upper East Side didn't stop a bevy of metalheads from stuffing Bar East to the gills until 2am. Elsewhere, and out of place, playing reggae between two avant-garde noise bands balls-deep in Brooklyn, I ANBASSA managed to win over a capacity crowd. It's encouraging to be around so much talent and see that they're all getting through to people across state borders, from one of the smallest states to the biggest city in the world. I look forward to enjoying more of these experiences and sharing them.