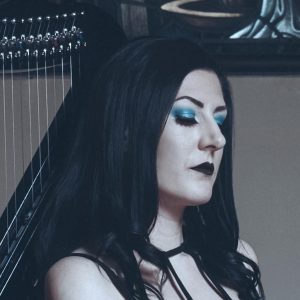 Coming down from eight long months preparing for the release of her debut solo album, Martyr, referring to Lindsay Schoolcraft as 'busy' is a major understatement. Add to this establishing an independent label, managing a web store, and balancing a super rigorous touring schedule that comes with being a member of the mighty Cradle of Filth, and you have quite the schedule. "It was just one of those things where I'm persistent and I'm not a quitter, and I don't give up," says Schoolcraft of taking on so many things at once. Despite the frantic schedule, Alternative Control was honored to pass the mic to Lindsay to discuss planning and patience, mental health, the world of indie-labels, and Pokémon.
Co-written by Evanescence alumnus and multi-instrumentalist Rocky Gray, Martyr grew from a cover of 'Lullaby' by The Cure to include songs written by Schoolcraft, as well as several songs originally intended for Gray's band, We Are the Fallen. "We found each other online and he said 'I'm a huge fan of Cradle,' and I said 'I'm a huge fan of you!'" she explains with a laugh.
While the internet and online file sharing has resulted in many amazing collaboration over the last decade, time management remains a hurdle for many projects.  Between Schoolcraft's commitment to Cradle of Filth and Gray's role as a writer of film and video game scores, the Martyr sessions spanned nearly two years to complete as opposed to an estimated eight months. Referring to herself as a "super planner," she states that delays can offer opportunities to work on things beyond music, such as press kits, album artwork, and building a team.  "The biggest thing in the music industry that you need is patience," she says, "people get discouraged by setbacks, but I always find that they're actually pockets of time for me to plan, which we needed for this album."
As an international touring metal musician, sound is all around you at every hour of the day. "There's a lot of noise going around me all the time, even if it's the sound of an airplane humming," she says of life on the road. "When I get back to Oshawa (Ontario), it's very quiet and when I come home, I love being in absolute quiet. It just helps me think and listen to myself, but also to listen to my soul and heart and what I really want and need."
The concept of silence not only reaches Martyr on a lyrical level, but also on a musically, harkening similar vibes heard in works by Panopticon, Xasthur, and Livelover. She explains "When Rocky sent me the demo for 'Where I Fall,' I felt like that was the soundtrack to the isolation I feel when I feel alone. I need to be alone to sort the thoughts in my head." The atmosphere of isolation combined with extreme honesty in the lyrics is something that she hopes will provide a place of solace for those facing difficult times.
At a time when work is underway to break the stigma of depression and mental illness, distrust in others can still be a source of silence for many. "I feel like a lot of people with depression ask 'who do I open up to and who can I trust?'" she says, "there's this empty pursuit in this industry of 'I talked to this established musician and helped them with their depression,' as a bragging right." Admitting that there are people who have the audacity to use one's difficulties against them, she also recognizes that there are also many who genuinely do care and wish to help.
"I think that's where a lot of people do suffer with their mental health. It's not that they don't want to reach out – it's that they're too scared to reach out because people are going to do one of three things. They're going to use it against them, they're going to use it as a bragging badge like 'I was a Saint to you and I helped you,' or (for) the people that they love, they worry about burdening them. And that's something that I feel that, with depression these days, needs to be identified really quickly."
Tying together an extraordinary work ethic and a passion for helping others, Schoolcraft's self-owned independent label came about during the Martyr sessions. With a team of about fourteen, a majority of which are women, she is pleased to see the progress already made. "I think artists need to know that they can do this themselves," she says, "it takes a lot of grit, building, and time. Nothing magical happens overnight, there are no unicorns or secret recipe." This mentality is shared by Animals As Leaders guitarist Tosin Abasi who, in an interview with Ola Englund earlier this year, stated that his band was without a label following their last album and considering pursuing an independent path going forward using their own teams and resources.
Schoolcraft's exceptional planning and patience even extends to the world of video games as she revealed her chosen starter Pokémon (first generation) is Squirtle. "It's probably because I'm a Pisces, I like Water types" she muses, "what I love about him is that when he evolves to Blastoise, he can learn an Ice move and totally kick Venusaur's butt." Her team was further rounded out by Wigglytuff, Vileplume, Ninetails, Dewgong, and Rapidash, a diverse group that, while time consuming to level up per the game mechanics, can become champions in the long run. "I had a solid team back then!"
Whether on her Gameboy, in the studio, or at her label, Lindsay Schoolcraft no doubt has a strong team at her side. Confirming that Rocky Gray will be working with her on the next album, she looks forward to bringing Martyr to the stage in the coming year. You can keep up with Lindsay on Facebook, Twitter, Instagram, and at https://www.lindsayschoolcraft.com/

For more from Alternative Control, find us on Facebook, Twitter, Instagram, Soundcloud, and bandcamp.