Editor's Note: Disillusion Effect will be playing Slothfest 2017 at Bleachers in Bristol on Saturday, July 29th.  Let's give them a warm welcome, Connecticut!
Introduce the band to AltCtrl: who are you, where is home, and what events led up to the formation of the band?
We are Disillusion Effect from the rolling Appalachian Mountains down in Morgantown, West Virginia.  Long-time friends, we decided to start this project back in June of 2012 and haven't looked back since.  Although we have had several lineup changes in the five short years we have been together, we continue to pursue our love of heavy music.
Where did the band name originate?
The band name spawned out of an alcohol-filled evening after band practice, where we wanted to find a name that really defined who we were as a band, and not play into the cliché dark and gory attributes usually associated with heavy metal.  Which is the foundation of the name itself: we want to change the usual perspective associated with the genre and create music that transforms opinions about things that people may have never given a chance in the first place.
What goes into writing material for DE?  Is it one person writing and the rest of the band refining?  An organic, in-the-space process?  Something in between?
The songwriting process usually involves a collection of riffs and ideas from individuals that is then hammered down into a tangible song structure. Nothing is ever set in stone, as new ideas are constantly generated from each member and we use what makes the song better as a whole.  We all strive to create a soundscape that draws the listener into the material and leaves them wanting more.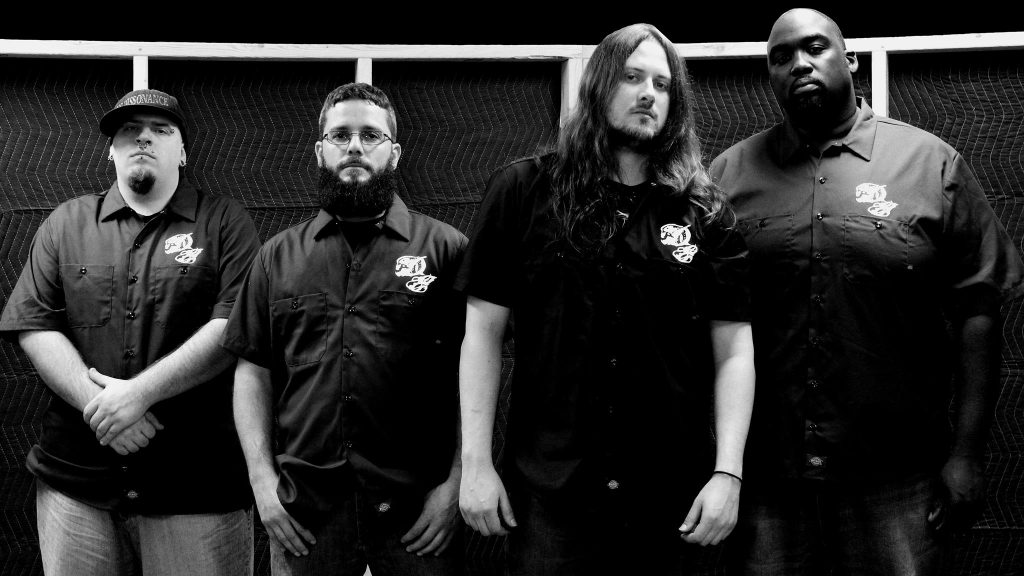 Social media tells me a Kickstarter has been launched to help bring the next Disillusion Effect album to fruition.  How is that coming along?  What is your opinion on the trend of bands reaching out to fans to help provide new material?

The Kickstarter campaign is about a quarter of the way through and we have surpassed the halfway point of the total amount we are asking.  We could never be grateful enough for all the support we have received from friends, family and fans alike.  This is our second time using crowdfunding to aid in the creation of our album, and thus far, the results have been amazing. It's always scary to put yourself and your material out there to see if anyone else cares as much as you do, especially when you're asking for a significant chunk of change to make your dream come to fruition. 
 Any other information or details for our AltCtrl hessians?
Be on the lookout for us to come to a town near you, as the next album will be released this Fall and we plan on hitting the road hard.
What band, local or national [besides your own] do you think should be more widely known?
Continuum (CT), Byzantine (WV), Shrouded in Neglect (OH)
If DE could tour with any three bands, both active and disbanded, who would it be and why?
Lamb of God, Pantera and Testament: these bands hold a long-term affection from every member and have, in one way or another, been influential in our musical careers.
If you had to pick one Bay Area thrash song to mosh to before you are walked to the gallows pole, what is it?
"Over The Wall" by Testament (Legacy)
Check out Disillusion Effect on BandCamp [https://disillusioneffect.bandcamp.com], throw them a "like" on Facebook [https://www.facebook.com/DisillusionEffect] and support the new record, Achluophobic, on Kickstarter [https://www.kickstarter.com/projects/706075114/achluophobic].  The band will be at Bleachers in Bristol, CT on July 29th headlining Slothfest 2017: Easy Stud.  All proceeds from the show will be donated to the family of Ezra Langston, guitar player from Alcoholicaust and longtime member of the CT metal scene who passed away unexpectedly in June.
For more from Alternative Control, find us on Facebook, Twitter, Instagram, and bandcamp.