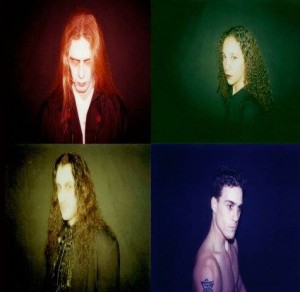 A lot of bands from Connecticut have had national and even international success. Fates Warning, Hatebreed, and Sacred Oath are three names that leap to mind as globally-distributed artists who broke their teeth here in the third-smallest state. Some bands have discovered marginal success, performing on interstate tours and amassing thousands of facebook likes from all over the country. Some bands manage to make their mark locally, only to fade away, to be fondly remembered over a beer when former members bump into each other at somebody else's show.
No matter the scope of any group's success, with regards to financial gain and popular acceptance, some bands truly become a thing of legend in their birthplace. One such group here in Connecticut's fertile musical environment went by the name Khasm. Their reign spanned nearly a decade, lording commandingly over the scene from 1994-2003. An enthralling blend of dark imagery and theatrics, heavy and melodic compositions, and cerebral concepts, they broke ground by introducing our local audience to then-unheard-of elements that were popular in European metal. Echoing this sentiment, the words of another long-time scene veteran, Suicide Dream guitarist Shadow:
"Khasm was one of the few bands in the U.S. at the time that really had that darker sound. Although we only had the opportunity to play with them once, it was a good fit and a great time. I always enjoyed their melodic parts a lot, and I wish they had released more material and stayed together longer. The fact that they are well-remembered so many years later speaks to the quality of their music."
Another enduring fixture in our scene has his own memories to share; Mark Lyon, currently of Xenosis, Snooty Garland, and Mr. Council, has been actively contributing to at least one local project for no less than 15 consecutive years. He reveals the impression Khasm made on him:
"The first time I saw Khasm, I was probably only about 14, so I had just started going to metal shows. I had never seen a local band that had on- stage theatrics before. They had black metal-style corpse paint and long hair, so I was like 'Woah, those guys are metal!' Another time I saw them, they brought out two ladies who looked like dead angels or something and they bled (fake blood, of course) on the stage. My favorite Khasm show was when Bair and I saw them with Suicide Dream and Divinity Destroyed at the El N Gee about 12 years ago."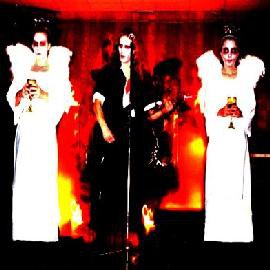 So I guess that's the one time Shadow said he got to play with them… I remember it fondly as well, it was a stellar show! But back then I had no idea what kind of accolades Khasm had earned, and only discovered as I commenced my research for this labor of love. The band's releases held firmly to numerous places on mp3.com's Gothic Metal AND Overall Metal charts throughout their tenure, "Burning in Agony" rating as high as 4th, "…And Thus Put Out the Light" claiming 19th, and "Awaiting the Silence" taking 69th. The single "Mother" (an original composition with a familiar name, I assure you) even broke the website's Top 20 on several occasions. And speaking for their impact in the local scene, at one time they occupied all four top slots in Gothic Metal for the Connecticut Region.
That impact was felt by the audience, but there seems to have been a feeling of isolation within the group, which may have come along with standing out as a unique entity. Bassist Keith the Wretched said, when asked how their overall sound and lyrical content reflected what was going on locally and globally at the time:
"The overall sound and lyrical matter is, to me, something that was always quite independent of what was going on at the time, both locally and inter-dimensionally."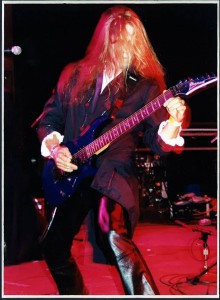 Founder Jay the Overlord, constant frontman and guitarist for Khasm, had a more elaborate response to the same question, and it speaks volumes to the sentiment that breaking ground and venturing somewhere as-yet-explored can be a solitary road:
"As far as sound and lyrical content, nobody (locally, anyway) cared to understand what we were trying to achieve through our music on an international level. Although there were many whom we felt had similar ideals, the biggest issue we always had in the local scene is that Khasm was never just a band to us. It was an emotional connection to something bigger in life… but trying to get that point across around here became somewhat pointless, so we always kept that part to ourselves, and hoped the music would speak for itself to those who cared to listen."
The band was certainly not on an island, they shared stages all over Connecticut with Suicide Dream, The Storm Front, Beyond Reality, Safe Haven, Stikpin, Paradigm Shift, Command Presence, and Curse the Son. Include Gallows Hill and 13 Winters from Portland, ME and Divinity Destroyed from New Jersey, among "a host of other bands who are likely happy we can't recall them at the moment," and it's clear that Khasm had a welcome place among their contemporaries.
In addition to these local performances and internet accolades, Khasm plied their trade on some extremely high-profile bills boasting internationally renowned artists. In 2000, they opened for Testament, and were even asked to extend their set. Incredible, and yet 2001 must be recalled as the Year of Khasm. They appeared at Metal Meltdown in New Jersey alongside countless names that included Opeth, Amorphis, Mastadon, Shadows Fall, and Vintersorg. They also took the stage at Milwaukee Metalfest XV, featuring Soilwork, Primal Fear, Anathema, Gorgoroth, and Jag Panzer.
The band endured several membership shake-ups over the years, but as Jay the Overlord says himself:
"The lineup changes, I feel, brought new flavor to an already well-oiled machine. Every time a new member joined the band we were fortunate enough to find that common ground, which allowed us to continue progressing for a decade, instead of falling into the rut of writing the same song over and over."
The group began with Jay the Overlord and drummer Michael the Heretic, who each remained with Khasm throughout its lifetime. They always employed a keyboardist, at first Lindsey but then, in the third and most successful incarnation, Elizabeth the Muse. Elizabeth also contributed vocals, blending magically with Jay's morbid crooning, and creating an even more unique product. Keith the Wretched rounded out that third lineup on bass and backing vox, but many other recognizable names in Connecticut metal can claim membership. Guitarist and vocalist Rob Moore, formerly of Eyes of the Dead, Nethereal, and Twilight Requiem was one. Another was the late Scott Farquarson, a young man who left our community too soon, and for whom a festival and scholarship fundraiser is held annually at Cherry St. Station.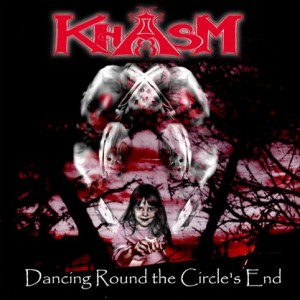 The band's sound, which I've mentioned but not yet described to this point, stood apart then and would today. Prominent keyboards created ambiance and an ominous temperament, while a blend of doom-and-black-metal-inspired guitarwork brought the heavy. Clean, brooding, tortured male vocals commanded in the beginning, but when female vocals were added, an even more outstanding dynamic existed with Elizabeth's wilting and beautiful ghost-like breezes complementing Jay's chant-like intonations. Add the aforementioned stage show, when even a venue's logistics couldn't prevent at the very least corpse-paint and costumes, and you've got what stands the test of time as one of Connecticut's most missed and fondly remembered metal acts of the last twenty years.
You can still listen to Khasm at this link and experience at least the musical component. And feel free to like their page on Facebook, where rumblings of reunions can be felt. Finally, check out Extra-Sensory Performance, Keith 'The Wretched' Zalinger's unbelievable display of abnormal mental prowess.