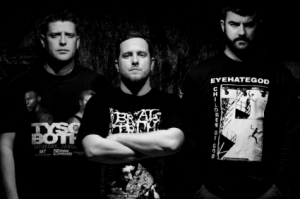 By Jeffery McCarthy
This is the second single from the St. Louis/Baltimore-based thrash/grindcore project, with more forthcoming from the album Stratagem (coming out March 24, 2015 on Housecore Records).
"Splinter" opens up and I swear I'm balls deep in a Soundgarden track from the early nineties, which of course is not a bad thing. This sublime track brings a round house of deep, escalating riffs coupled by a range of percussionary masterfulness. Vocalist and guitarist B.L. LaMew brings a tearing thrash of ranged guttural shots to the brain.
In the next track, "Crutch," the mayhem continues into a maelstrom of madness; you'd swear somewhere in this insane drumming that Cthulhu would reach out and envelope your sanity, turning you into a denizen of Fulgora. Then the riffs break down in this tidal wave formation of melodic tributes, leaving you aware that you just had you balls and face exchanged — or vulva and face which ever fits. A real quick in-and-out, then right back into a punch to the senses…
This band has members of some other projects like Pig Destroyer and Agoraphobic Nosebleed, which raises that imaginary but perceivable bar of expectations. These two tracks show that bar has been met; this shit is a real sick twist on the ever evolving grindcore genre.
Working with Housecore Records, owned by Philip H. Anselmo, is something as a outsider I can only imagine will help bring more attention and resources to this band — but that being said they already shred. I think this brings to Housecore Records a much needed boost of evolutionary sound, a sound that has traversed the last decade through multiple forms. I personally am looking forward to this release and more from Fulgora.
Limited vinyl located here: http://www.dischord.com/release/cc31/splintercrutch