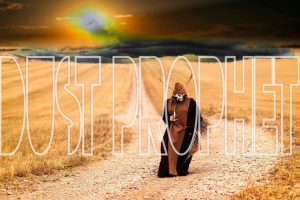 Hailing from Manchester, New Hampshire, hard rockers Dust Prophet have released one single and seem about ready to take over New England.  Enticed by the blend of doom, stoner rock, and metal that they were able to pack into "The Big Lie," I asked the band if they'd be willing to share it with Alternative Control's audience on our upcoming compilation album, Volume Doom.  Spoiler alert, they said yes!  
Let's find out a little more about this foreboding quartet…
Dust Prophet is a new band, but I have a feeling that you guys are not new to "The Scene."  Tell me about how this project came together.
Otto: I played in an industrial band with both Heather and Sarah called Fiends of a New Republic, who played a lot in NH and in-and-around Boston for a few years. And I've played in a variety of bands with Marc over the last ten years or so. We've all been in bands with each other before, in some variation, and we've all had tons of experience recording and playing live in various projects throughout the years.
Heather: We actually have all known each other from other projects. Marc (drums) and Otto (guitars) have been friends for quite some time, and have worked together musically in the past. Sarah (bass and keys) and I met in an all-female band years ago. Otto and I formed an industrial project called Fiends of A New Republic a few years ago, to which we added Sarah on keys. After we strayed from that project, Otto and Sarah started working on a new stoner rock project and named it Dust Prophet. Fortunately Marc was available to lend his skills on drums. They asked me if I'd like to try vocals, and Otto sent me a few rough demos to check out. I really liked what I heard, and the rest is history!
Marc: I've been gigging in various bands around New England since 2000. Otto and I founded an experimental metal band called The Isolated Sequence in 2007 and some tracks from that project were reformed in his 2011 solo album "We Are All Doomed: The Zodiac Killer" of which I tracked live drums for 5 songs. Fast forward a few years and I came into this project after Sarah and Otto sent some promising demos, then ultimately Heather came on board and filled out the sonic soundscape. I feel it's a real effort that shows off a somewhat stripped down approach, which borrows from all of our past efforts and allows this new music to breathe.
At the moment I'm writing these interview questions, Dust Prophet has released a single called "The Big Lie" and there is another track coming early in the new year.  What else is in store recording/release-wise for Dust Prophet in 2019?
Heather: We are working on recording, so we can release an EP and eventually a full-length album hopefully later in the year.
Marc: A modest amount of live shows is planned for 2019 and we would be thrilled to have new material to release in proper album format late in the year.
For a band with one song out, you guys have quite an array of cool artwork.  Who does your artwork/graphic design?  And somewhat related, how have you went about planning your band's "trajectory"?  I don't know if that's the right word, but again for a band with one song, Dust Prophet seems very organized and focused!
Heather: Thank you very much! That's really great feedback to hear. I'm actually a graphic artist and art director, by day. These skills are really helpful when creating content and visuals to complement our music and brand. When I first joined the band and was thinking about logo creation, I asked the others to send me some reference images and descriptions of what they thought "dust prophet" meant to them. Based on these answers, we came up with a theme and a message to influence our image.
Marc: Speaking to the band trajectory, at least music-wise, I feel we're in agreement with feeling out how songs transpire between us. A democratic approach works because we believe in ourselves and trust each other to create the best for the song with our respective skill sets.  We know we can have a heavy song or a song with multiple parts and feelings or even a relaxed tune because it maintains a core that represents our collected voice in a pragmatic way.
What inspires the apocalyptic theme in your music, artwork, and social media?
Heather: We pull our ideas from both hypothetical situations, as well as historical events. I also pull a lot of ideas from my own personal fears and anxieties. We've all been in life scenarios where we wished for an ending or drastic change. Although not always on a global, catastrophic scale, an apocalypse can bring opportunity for a new beginning or test our strength as Survivors.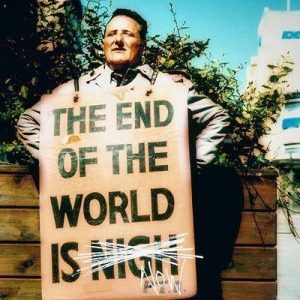 How many years do you think it will be before the U.S. has to deal with a real apocalyptic scenario?  And what do you think will cause it?
Sarah: I really try not to think about that.
Heather: I think there are several potential threats that humans are facing, or may face. An asteroid could hit our planet at any moment, and we could go out like the dinosaurs. Aliens may decide to stop letting us play, and make us their pets or food source instead. But I feel the most real threat to our existence at the moment is human ego and the damage it causes to our planet, animals and to other humans. Ego, one main quality that makes us human, may also lead to our own demise. I think it's entirely possible to see this happen in our current lifetimes.
Marc: Personally, I don't believe a singular event will occur, there has to be a summation of events to really devastate our species. If and when that comes, I think it will be analogous to an event horizon such that there would be a point where if it's passed then there is no escape from the pull to the other side.
Otto: It's interesting because if you look at history, there's already been several events that people believed was the "Apocalypse" as the event was happening in their time. Stuff like World War I, the volcano in Pompeii, the US dropping the Atomic Bombs in Hiroshima and Nagasaki, and The Holocaust…  If you were living in these times and in the areas that were directly affected by these events it would be difficult to believe that the world wasn't coming to an end. But to answer the question more directly, I agree with Marc. I don't think it'll be one single event.
Are you guys doomsday preppers??  And if so, any tips for the rest of us?
Heather: Not yet, but I love the idea of a funky Dust Prophet bunker. I bet it would be filled with music
and cats.
Marc: As survival is based on adaptation of the situation, no. But I do like Heather's idea of the funky bunker!
Okay, back to nice questions.  Asking because I saw a video of Otto's cute kid singing Christmas songs: how do you balance family and work with what you do musically?
Otto: It's definitely tough. You have to be very diligent in keeping your schedule up-to-date and making sure you're using proper time management. It's about prioritizing; music is something we all care about, so you have to find a way to make time.
Heather: I actually have no balance.  I do not have children, but I have a full time job as well as two small side businesses. I used to try to schedule and plan, but it's really more of a comical juggling act than planned organization. I just throw things in the air and hope I can catch them.
Sarah: It's a challenge for sure. I have three kids and I have to work hard to make time for music. If I don't I go insane, though, so I make it a priority.
Marc: Time management is a struggle and I think I've looked at my calendar the most this year in relation for planning, gigging, practice, etc…
You guys have not one but two women in your metal band.  This question might best be fielded by Heather and Sarah, and don't get offended because I'm asking as a fellow woman in a metal band… Does gender matter in making music?  Do you find that audiences focus on the fact that you are women, or do they seem to have moved beyond gender in their appreciation of Dust Prophet?
Heather: We haven't encountered any gender bias with Dust Prophet yet, and that's very refreshing. There are so many skilled women in hard rock, in our subgenre certainly, and I hope we continue to see that. Ideally women in metal will start to become normal, and people won't think twice about the gender of a musician, but rather just enjoy the music. But I've certainly encountered it in the past, particularly being a woman with a very female voice. Some people have the perception that vocals need to be aggressive in order for music to be "heavy." Most of the people who like Dust Prophet seem to dig our sound as a whole, without focusing on gender. When doom's day comes, these are the people we will invite to share our bunker.
Sarah: Well we are a new band, so we shall see, but I like to hope we'll be judged by the quality of the music.
Marc: I see us as a collective of musicians that work well with one another such that we strive to showcase our strengths that we've developed independently, so I think that Dust Prophet doesn't look at ourselves and think about the impact of gender within the group to make the music we make. Regarding the idea of a female fronted group, it seems like a promotion method to state what is outside the status quo, but really some elements of the status quo should be challenged in order for collective progress.
Otto: Since we're two men and two women I'm fond of saying that our band is like Abba, except none of us are sleeping with each other…yet.  🙂
Where do you stand on the "streaming is great for bands" vs. "streaming is shitty and devalues music" debate?
Heather: I think streaming is bad for artists financially, but it's good for listeners and for growing your audience. When I listen to music, it's all in digital format. I either stream or download. Many people prefer vinyl or other hard copies, but for me digital is convenient and takes up less space in my home. It's also difficult to get people who don't know your music to commit to buying it. Fewer people are attending local live shows, so many people find new music online. Making some of your music available to stream lets the audience hear you before making a monetary commitment. It also allows for your music to be easily shared, potentially growing your audience. But from a business standpoint, it's pretty crappy. An unknown artist won't make any money from the $.0035 per stream. Therefore, it's harder for bands to raise funds for expenses like merch, recording, touring etc…
What were some of your favorite releases of 2018?
Heather: I've been listening a lot to the new releases from Ghost, Owl Maker, Witch Mountain, and LUCIFER.
Sarah: I can't stop listening to the new Clutch record, Book of Bad Decisions. I'm pretty much rotating it with Opeth's new live record Garden of the Titans right now.
Marc: Sumac released Love In Shadow and I absolutely love it! Also have been digging the latest from TesseracT and A Perfect Circle, but mostly I listen to stuff that's been out for a while. I don't like to assign a timeline to music.
Where can audiences find Dust Prophet online?
Otto: Our website is probably the best place to go, www.dustprophet.com. On the front page we have links to all of our various social media sites. We're on Facebook, Twitter, Instagram, Spotify, iTunes, Deezer, etc.
Find Dust Prophet IRL at one of their upcoming shows!  They are traveling quite a bit in the first half of 2019, so if you live in New England, chances are they're coming to a venue near you.  Hopefully the apocalypse holds off long enough for these guys to release their full-length and tour the country!
1/3/19 w/ Oziem and Lobotomobile @ The Shaskeen Pub and Restaurant in Manchester, NH
3/22/19 w/ Owl Maker and more @ Koto in Salem, MA
3/28/19 w/Above the Din and more @ Club Bohemia in Cambridge, MA
4/13/19 w/ Barbarian Thieves and Benthic Realm @ 13th Floor Music Lounge in Florence, MA
6/8/19 w/ Moessaraig, Owl Maker, and more @ Dusk in Providence, RI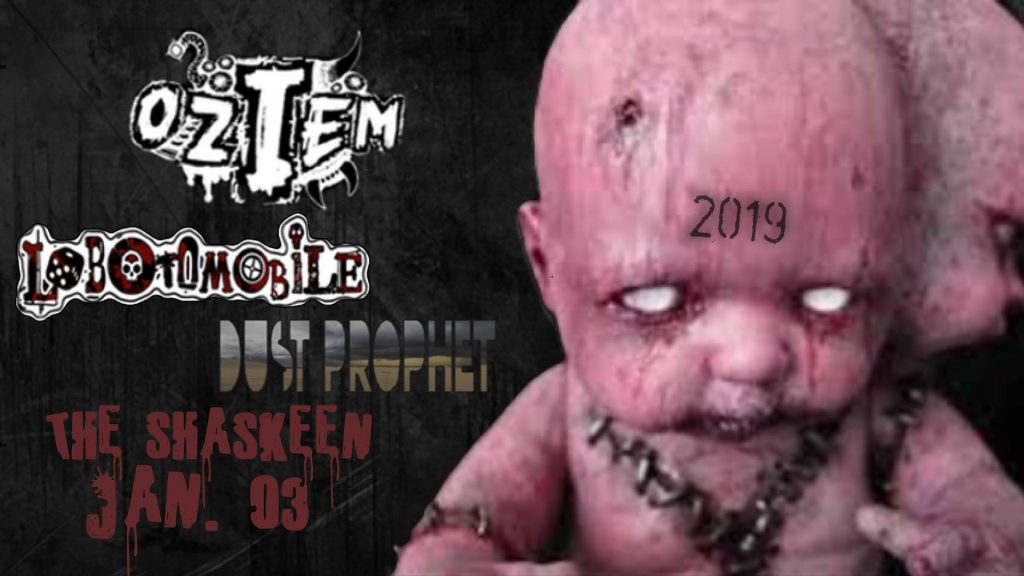 For more from Alternative Control, find us on Facebook, Twitter, Instagram, Soundcloud, and bandcamp.