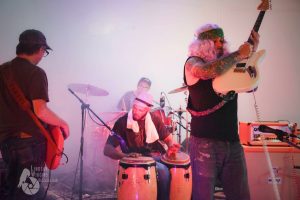 Reno Gooch, guitarist and vocalist of South Carolina psych rockers Space Coke, was tasked with finding out what nerdy stuff his band members were into.  Here's what he uncovered:
After asking my band to help me list a book, movie, and game that we each enjoy, it turns out that I am the nerd of the bunch. Here are the responses from myself, Jay Matheson (bass and production), and Brandon Johnson (drums).
Movies
Reno: Lately I have been bingeing on thrillers from the 40's and 50's. I'm a big fan of Roger Corman's films, especially The Trip. But for a favorite movie I'm going to say Fearless Vampire Killers. It's a fun film and it's got the amazing Sharon Tate (damn you Charles Manson); however I just like the style of it. It's so visually pleasing to me that I watch it on silent at night quite often.
Jay: For a Film I'll say Being There. It's an oddball comedy that makes a lot of serious social commentary. Peter Sellers gives the ultimate deadpan delivery as Chance, a simple-minded gardener who unwittingly becomes an advisor to the president. It was quite a masterpiece but has flown under the radar for most people. The fact that (Chance) is an idiot and most people thought he was a genius points towards our current political situation.
Brandon: Pulp Fiction is the greatest movie ever made.
Books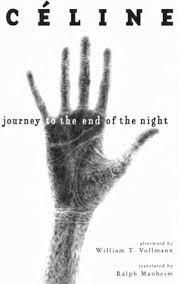 Reno: My favorite book is Journey to the End of the Night by Louis Ferdinand Celine. The style of the writing was groundbreaking. It's semi-autobiographical and a masterpiece of a first novel. If you are a fan of Catch 22,  definitely give this a read. Greatly influenced by Celine's war trauma, Journey is caustic and still relatable. I'm a big fan of gritty realism and a mention in a Bukowski book (see Jay's response) led me to Celine. Bukowski also steered me to John Fante and Hubert Selby Jr.
Jay: My top writer is Bukowski and I guess my fave book by him would be Post Office. I'm not sure how much of it actually happened but it all seemed like it must have actually been Bukowski's real life. His stories and misadventures were always just as thought provoking as they are humorous. He somehow reminds me of Lemmy, a hard living guy that does his own thing and produces some great art in the process.
Brandon:  I don't read a lot of books but I love reading YouTube comments.
Games
Reno: I have always been unusually terrible at playing games, especially video games. I play the Quiz Up app daily and love how it matches you up to do trivia with random players all over the world. I also do the New York Times crossword app daily. I only have the free version so I only get one small one a day.
Jay: As far as games go, I work as a recording engineer so I'm not into any more screen time with video games. I like poker. Drinking and gambling with actual people and thinking are a good mix. I wish I had time to play more. It's good practice for general life situations.
Brandon, a band member of few words, is keeping his favorite game to himself.  Check out Space Coke's new album L'Appel du Vide, called "molten" by The Obelisk and "an '8-ball' of sonic dope" by Riff Relevant.
For more from Alternative Control, find us on Facebook, Twitter, Instagram, Soundcloud, and bandcamp.