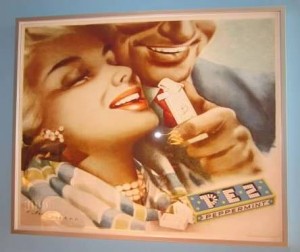 I never gave much thought to PEZ, but since Danielle and I were going on a road trip to the PEZ Visitor Center in Orange, Connecticut, I decided to learn all there is to know about these sweet, little candies.  As a kid, I remember PEZ being the unwanted candy at the bottom of my trick-or-treat bag.  The truth is, PEZ has been around for over 80 years and has become a pop culture phenomenon!
PEZ was invented in 1927 in Vienna, Austria as a breath mint.  The name PEZ was derived from a combination of letters in the German word for peppermint, Pfefferminz.  In 1948 PEZ candies were marketed as an alternative to smoking so they modeled the first dispenser to resemble a lighter.  I can totally appreciate PEZ now because there ain't nothing I hate more than smoking.  In the 1950s they designed a Santa, a Robot and a Space Gun dispenser to appeal to children.  Shortly after, they produced Popeye, Mickey Mouse, psychotic bunnies and scary clown dispensers.  
Today you'll find Hello Kitty, Lord of the Rings, Disney characters, holiday, and sports themes.  The top selling PEZ dispenser of all time is Santa Claus and the most popular line is the Star Wars collection.  Amazingly, in the United States the factory goes through 100,000 pounds of sugar each week to produce over three billion candy bricks per year!  The PEZ headquarters relocated to Orange, Connecticut in the 1970s and the Visitor Center opened its doors in December of 2011.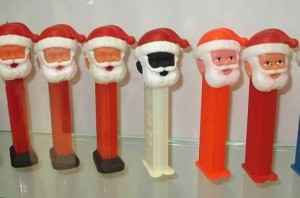 We entered the colorful lobby and saw a huge wall displaying practically every PEZ dispenser ever made and hanging from the ceiling was a custom built motorcycle by the Orange County Chopper guys.  For five dollars we got an admission ticket which hung from a really cool PEZ lanyard and a store credit towards merchandise.  Our self-guided tour began with an interactive history of PEZ, a giant 14 foot PEZ dispenser and a few sexually suggestive vintage advertisement posters.  We caught a glimpse of the factory through a glass viewing window and if you visit Monday through Friday you can watch the production floor in action.  It must be fun for workers to have the public gawking at them while doing their crappy job.
We continued through a maze of hundreds of vintage and modern PEZ memorabilia pieces from promotional items to a PEZ Girl outfit on display.  Danielle's favorite dispenser was a vintage Halloween skull while mine was a ridiculously black Santa Claus.  We soon realized that we needed to eat PEZ…now!  Our wish was granted when we spotted a huge PEZ vending machine at the far end of the exhibit.  We filled our collectible tin buckets with assorted fruit, Sourz, chocolate, and cola flavored candies.
After eating way too many PEZ and attempting to make a PEZ martini later that night (don't try this at home) we came to the conclusion that PEZ overload may actually be worse for your health than smoking.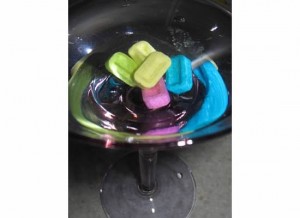 www.pez.com
Pez Visitor Center
35 Prindle Hill Road
I-95 to exit 41 in Orange, Connecticut
Hours of Operation
Mon – Sat: 10am – 6pm
Sunday: 12 – 5pm
Under 3 – Free
3-12 yrs – $4
Regular – $5
Seniors – $4
Photographs by Danielle Gombos.