As someone who doesn't know a goddamn thing about grindcore, I was outside of my element reviewing David Carradine's latest release.  My comrades and I watched Bones on mute while listening to the untitled album, a split CD with Indonesian band Ah-!!!.  The sixteen frenzied tracks were a fitting accompaniment to scenes of decaying bodies on the screen – but not so much for the cutesy Bones-and-Booth-sexual-tension scenes.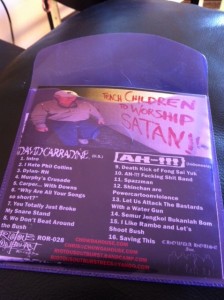 For the rest of you that don't know a goddamn thing about grindcore either, it's like punk's drunken pyromaniac cousin.  High-tempo blast beats and guttural vocals are characteristic, as are very short songs.  The shortest on this CD was David Carradine's (DxCx) "Why Are Your Songs So Short?" clocking in at eight seconds.  Most of the lyrics are indecipherable, so song titles play a big role in creating the music's humor – like DxCx's "You Totally Just Broke My Snare Stand (And Marsie's Bong)" and Ah-!!!'s "Let Us Attack the Bastards With a Watergun."
But just because the songs are short and fast doesn't mean there's no variety.  Sludgy riffs in DxCx's "We Don't Beat Around the Bush, We Smoke the Motherfucker" seemed like a musical nod to their friends in Howl, a doom band from Rhode Island.  And when Ah-!!!'s half of the CD started, there was a huge change in the sound – coming after the comparatively subdued "We Don't Beat Around the Bush…," Ah-!!!'s "Death Kick of Fong Sai Yuk" really sounded like someone was getting killed.  My favorite songs were "We Don't Beat Around the Bush…" and "Murphy's Crusade" (also by DxCx), which alternated groove riffs with fast punk.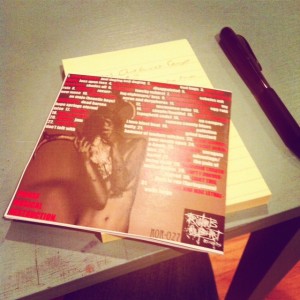 Based in Pawcatuck, CT, DxCx has been smashing shit and playing loud music since 2007. Vocalist Josh Marsie also runs Riotous Outburst Records, a DIY label specializing in punk, hardcore, grindcore, and other extreme genres.  He sent me the compilation Don't Ever Say Riotous Outburst Recs Never Gave You Anything, Part Five along with the DxCx/Ah-!!! album, and I enjoyed it a lot.  Some of the songs were in the violent DxCx style, but others were more melodic; there were even a few hip hop tracks mixed in.  My favorites were "Bed Bugs" by Bangladeafy (NY), "My New Muse" by Ferocious Fucking Teeth (CT), and "Loss Upon Loss" by Fuck the Facts (Ontario – and on the comp courtesy of Relapse Records).  Also, Light This City's cover of "Born to Run," courtesy of Prosthetic Records, was a hit with the living room comrades — "Way better than Bruce Springsteen," said Baldwin.
Visit Riotous Outburst's Bandcamp page to hear all these songs for yourself; you can listen for free and  download the tracks you want, or you can download entire albums.  (I just got Thulsa Doom's The Song Remains the Same because it makes me feel young and angry again…) The newer releases cost a little money, but some of the older ones are free – including Riotous Outburst's fourth compilation, featuring some good tracks from Bangladeafy, Not the Kid, and Howl.
You can also see DxCx's grindcore madness live next month:
5/11: DxCx with Saint Jude (members of Howl), Intheshit, Eastwood, Ferocious Fucking Teeth, and Road Rage at the El n Gee in New London, CT
5/20: DxCx with Ira Graves, California Bleeding (on tour from San Diego), Lowlife, The Reacharounds, and Ultra//Negative at Midway Café in Jamaica Plain, MA
If you're someone like me who watches Bones while crocheting baby blankets for yet-to-be-conceived children, grindcore probably won't be your scene — but you should still peruse the Riotous Outburst site because there are so many other genres on there to choose from.  And if you're a Connecticut grindcore fan who doesn't already know about David Carradine, you should probably kick yourself for being a poser, then get your ass to one of their shows.  You won't be disappointed — and don't fuck with their snare stand!
Want Alternative Control to review your band's album?  Leave a comment or contact us!