Tis the season!  We've been drinking pumpkin beer for a month, so it must be time for Connecticut's agricultural fairs.  From Labor Day weekend (and even before) to mid-October, we enjoy our state's rich farming heritage with oxen pulls, bake-offs, midways, and music.  Here are some highlights:
The 72nd annual North Haven Fair is packed with campy family fun.  From a hula-hoop contest Thursday night to independent pro wrestling matches Sunday evening, there is something to please everyone.  And for all the rockers, Tom Keifer of Cinderella will be performing Friday night!  Adult general admission is $10; don't forget to drop off some non-perishable food items in Building 2 for the North Haven Congregational Church Food Bank.
Located in Somers, the Four Town Fair was first held in 1838; it may in fact be the oldest agricultural fair in New England.  This one promises a weekend of wacky contests, including pie eating, frog jumping, and women's skillet throwing (no doubt thought up by angry wives of yore).  There are also many animal exhibits and country music all weekend long.  Adult general admission is $10, or $20 for a four-day pass.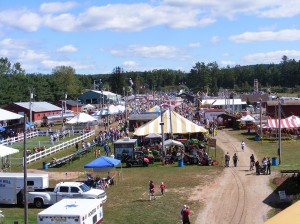 Take the kids to see the animals and meet Hilby the Wandering Juggler at this alcohol-free event.  There will also be music from Mike Delguidice & Big Shot on Friday night and Frankie Ballard on Saturday.  Adult general admission is $10.
The 95th annual Durham Fair will feature musical headliners Tower of Power, Montgomery Gentry, and Jo Dee Messina, in addition to wine tastings, a farm museum, midway rides, and of course livestock exhibits.  The largest fair in the United States that is run completely by volunteers, it is also the biggest fair in Connecticut.  Discounted tickets ($10 adult general admission) are available online through September 24; see site for day-of prices at the gates.
Bonus:
We would be remiss not to list this giant Massachusetts fair.  Just over the border in West Springfield, the Big E is famous for its horse shows, its crazy fried food concoctions, and its entertainment.  Performers this year include Darius Rucker, Eddie Money, and ZZ Top.  Visit the site for schedule and ticket information.
For a complete list of Connecticut agricultural fairs, visit www.CTagfairs.org. Have fun at the fair!