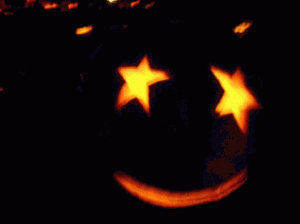 Get blazed. Great Jack O'Lantern Blazed that is!
Every year the Van Courtlandt Manor in Sleepy Hollow, New York hosts its outdoor Great Jack O'Lantern Blaze. Literally thousands of pumpkins are carved by volunteer artists and are put on display throughout the landscape. I mean, I like pumpkins but these carvers reallyyyy like pumpkins…. or hate them since they slice them up with knives.
Our group ventured along the illuminated path while gazing in amazement at the talent and obsessive-compulsive nature it must have taken to carve these gourd-like fruits. There are literally thousands of hand-carved real and faux pumpkin installations grouped by bad-ass theme like skulls, ocean life, mummies, dinosaurs, Celtic designs, butterflies, tombstones, a giant spider web, bees, aliens, pirate ghosts, and the cutest shrunken heads. This year they added King Kong, sheep skeletons, and Greek mythological creatures. We felt like kids again winding through this maze of glowing pumpkins. We also felt like human cattle being prodded along to an unknown fate by the massive crowd.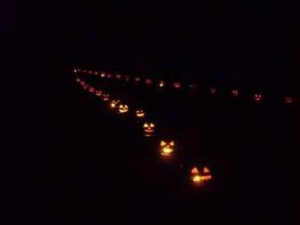 This exhibit is located in the very town that inspired the short story "The Legend of Sleepy Hollow" by Washington Irving. In this classic, schoolmaster Ichabod Crane encounters a Headless Horsemen one night who is believed to be the ghost of a Hessian soldier. This ghost dude is searching for his head that was blown off by a cannonball in the Revolutionary War. Ichabod wisely ran for his life and the next morning all that was left of him was a shattered pumpkin by his hat. This story is metal as fuck and should be shared with children each Halloween.
How did it come to be that we carve pumpkins for Halloween? In Ireland it was tradition to carve a turnip into a sort of lantern during All Hallow's Eve to ward off evil spirits. Americans supersize everything so we started carving pumpkins. Then there is the Irish folktale that tells of a man named Jack who makes a deal with the devil to spare his soul despite his awful deeds. Once dead, the devil honors his promise not to take Jack's soul down to hell — but being too sinful for heaven, he is left roaming the earth for eternity. When Jack asks how he will see in the dark the devil tosses him a burning ember from Hell which he places inside a carved turnip hence the name "Jack of the Lantern."
The final destination of this human conveyor belt is the gift shop where you can buy apple cider, vegetarian chili, apple doughnuts, pumpkin pie and a ridiculous amount of pumpkiny goods. Tickets sell out faster than you can order a non-fat Pumpkin Latte with an extra shot and no whip from Starbucks, so buy them now. About 80,000 people visited the exhibit last year. Bring your camera but keep the flash off, dummy. Merry Halloween!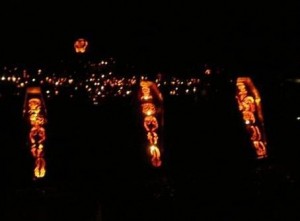 Where: Van Courtlandt Manor, 525 South Riverside Ave, Croton-on-Hudson, NY 10520
Cost: $16 adults, $12 children, under 5 free (Saturdays $20 & $16) parking free
When: October 1 through November 6
Time: Advance tickets –exhibit duration 45 minutes
Web: http://www.hudsonvalley.org/